This post has Game of Thrones **spoilers** EVERY GOD-DAMN-WHERE! Ok? Ok.
It's best to get the spoiler warnings outta the way. 😉
Also, y'know this is Game of Thrones, so general WARNING for potentially distressing content.
The thing about hype is that you can't please all of the people all of the time.
When those people are Game of Thrones fans, they're gonna be pi**ed regardless.
Actually, they'll probably be pi**ed if you don't do things that upset them.
(I say it with love! 😘)


So what do you do when you have (arguably) the BIGGEST FREAKING SHOW on the planet, in its final season?!
You're not gonna please everyone.
In fact, it's gonna be difficult to please ANYONE entirely - because everyone has their own individual idea of how it 'should' end.
Add into that that no-one expects Game of Thrones to do expected things?
...Which means that people expect the unexpected, which means it's expected...
...Which just makes it all a goddamn headache!
So, what do you do?
Quite plainly, you do whatever you want. But with caveats.
(I don't do simple answers, dearest nerdlets, you probably know this if you've been here before.)
Some things are out - you can't pick Daenerys or Jon Snow.
(Did you know my blog's spellcheck recognises the word Daenerys?! That's some cultural impact right there!)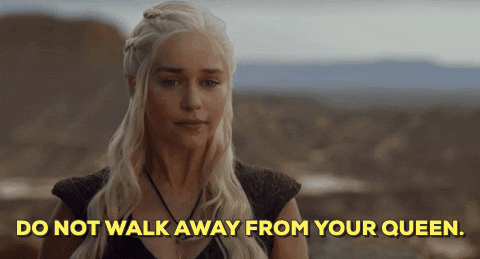 Via Giphy
Why not either of those two?
Because the Team Daenerys vs Team Jon Snow fandom wars would never end and would make what we currently have pi**ed-off-fan-wise look like a kid's birthday party.
Also because it's too expected for Game of Thrones. Let's be honest.
Pick one of the two people with a right to the throne to be monarch?! What on Westeros were you thinking!
You also can't marry them to each other - which on the surface is an easy solution.
Why not that?
Well a) incest - not the worst case in GoT history, but still there.
But aside from that, it's too neat and tidy plot-wise - which GoT doesn't
do
, and it would never work character-wise.
Dany wasn't gonna be an equal co-monarch with anyone.
And Jon would've struggled to rein in her more stabby tendencies.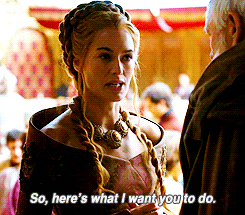 Via Giphy
Are you thinking the homicidal part of her character was only a season 8 thing?
I'ma have to politely disagree. It's not the first time she committed what is essentially a war-crime.
I'm not saying Jon Snow never did bad sh**.
I'm saying it's not the first time Daenerys got a little bit massacre-y.
And what Tyrion said to Jon in that final episode made so much sense: people let it slide, because the people she was killing were 'bad' people.
It's only when she decides that her version of 'bad' is the only version - and that version covers anyone who didn't leave King's Landing before she got there - that we see the side of Daenerys that we didn't want to see.
Before that, it suited both the characters and the audience to ignore her atrocities.
Even in a society which accepts the death penalty (which I don't) her executions were particularly brutal and bloody.
You let people do that without question? They kind of lose what sense of perspective they had, dude.
So what do you do? You compromise. You come up with an ending that most people can accept, even if they're not overly-happy with it.
Which is what we got.
Not the ending most people would've wanted... but then, Game of Thrones was never gonna give us exactly what we wanted, was it? It never has.


Was it inevitable that the finale would disappoint people?
You can follow me on Twitter @CeeDoraReads, on Pinterest, and on
Dora Reads @ BlogLovin.
For more ways to support me, check out the Support Me page
Please be sure to share & comment! 💖
Last updated: 8th June 2019