Dora Reads is the book blog of a Bookish Rebel, supporting the Diversity Movement, bringing you Queer views and mental health advocacy, slipping in a lot of non-bookish content, and spreading reading to the goddamn world! :) (All posts may contain Amazon links, which are affiliate, unless marked otherwise. As an Amazon Associate I earn from qualifying purchases. USA ONLY - please do not make UK purchases with my links)
Thursday, 26 November 2020
It's Thursday. Let's get some awesome-sauce comics-y, superhero-y goodness!
Wednesday, 30 September 2020
Author: Guillermo Del Toro and Cornelia Funke
Genre: Media Tie-In, Horror, Fantasy, Historical Fiction, Fairy Tales
(-ish,)
Magic Realism
(-ish,)
Young Adult
(Maybe? Maybe just adult with YA appeal. It's kind of difficult to gage the age range here!)
Friday, 23 August 2019
"You are the only raven-man?" 
"To my knowledge," Diaval said. "Though most of the ravens I meet don't believe me when I say I am sometimes human."
I LOVE Maleficent.
It's an amazing movie, and I am super-super excited for Maleficent 2!
And only like, 70-75% of my love for Maleficent has to do with how stunningly attractive Angelia Jolie is in the title role! 😅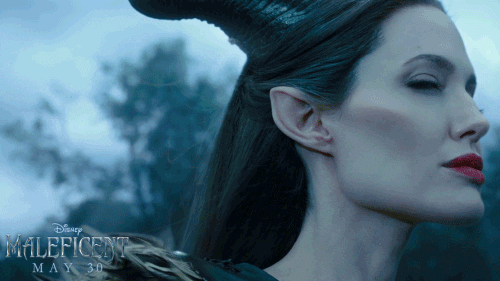 Via Giphy
Tuesday, 9 May 2017
I received a free digital review copy of this book via NetGalley. NetGalley provides review copies from publishers in exchange for fair and honest reviews.
There's been so much buzz around this book - including a Goodreads Choice Award for Poetry in 2016.
People love this book - and to hear this much about a poetry collection isn't an everyday occurrence, so when I got the opportunity to review it, I took it.
A note before we go on guys: This book deals with some very difficult topics in an open and often raw way; please be careful.
Thursday, 5 January 2017
Since Comics Wrap-Up took a break over Christmas, this week's edition is a catch-up of my comics reading and all related stuff in the last couple of weeks :)
Film Trailers
Here's an extended Batman TV spot for you all :)
(This film looks hilarious!)
Single Issues
I read a butt-load of short and preview comics to help prop up my Goodreads challenge total, so I'll just give you my three top picks.
(Trust me, these three are the ones worth mentioning!)
Heart of a Corpse: An Undead Engagement #1 (UK - US) and Bloody Dreadful #1 (UK - US) are two comics by creator Justin Sane.
Both are fairly interesting, creepily executed, tales of Victorian Gothic horror.
Heart of a Corpse
actually plays out like a silent movie in silhouette - and was really moody and cool. :)
I enjoyed both, and they def. came as a pleasant surprise.
Loki: Agent of Asgard #1 (UK - US) is the start of the whole Loki-as-a-teen series
.
(Fangirling note:
Loki is one of the most difficult Marvel characters to define because s/he spends periods of time as a child, a teenager, a woman, a man, and two people. In honesty, I've probably missed something out.
Just trust me. In this period of time, Loki = reincarnated teenager. Thor = adult. That's as basic as it's gonna get, so let's leave it there.
You can't sweat the small stuff in comics. Your brain will explode. #TrueStory.)
This is the first part of
Loki: Agent of Asgard Vol 1 (UK - US)
and is pretty awesome. I really want to read the full volume soon for more sassy Loki awesomeness!
Webcomics
Over Christmas, I also read webcomic Princess Princess by Strangely Katie/Katie O'Neill
This is about two princesses who are faffing around a magical kingdom, challenging gender norms, and falling in love with each other.
One of the princesses is black - so there's a strong person of colour (PoC) lead too 😄
Princess Princess: Ever After (to give it it's fancy in-print title) is also available in printed format (UK - US.)
Other Stuff
Over on Women Write About Comics, Sergio Alexis wrote an awesome recommendation list of webcomics.
And just for the awesomeness of it all, all the comics they recommend are diverse!
For anyone who doesn't know,
'Women in Refrigerators' or 'fridging'
is a phrase that was invented by comics artist
Gail Simone
for unnecessary acts of violence against women in comic books - often used as a plot device to motivate the male hero.
The origin of the phrase was an infamous storyline where the Green Lantern finds his girlfriend murdered and stuffed in his fridge by a super-villain - apparently just to make him angry.
Valente's book plans to give a voice to fridged women - and it looks incredibly poignant, and undoubtedly awesome.
Along with America Chavez, Marisol Rios De La Luz aka La Borinqueña, is an awesome step forward for Latinx superheroes.
Like this post? Try these:
Wednesday, 31 August 2016
August. Ahhhh, August.

(I can't resist a happy-dog-in-sunglasses pic!)
August was actually a pretty good month for me.
Despite how difficult my anxiety made it, I came out as sexually fluid; and that felt great ;)
Blog-wise, less impressive stats than last month. But they were still pretty damn good :)
Over 4k page-views this month, reaching over 25k page-views over-all!!!!!!!!!!! XD I mean - wow! 25k!!!!!! XD XD
(Actually I've now reached over 26k, but 25 is such a round and shiny number, lol!)
And I now have over 950 followers on Twitter.
Things've stagnated a little on BlogLovin' - but still trotting along with a handful of new followers this month :)
And shameless plug time!
The Bookish Diversity Link List 2016 is up and running.
Be sure to check it out, and let me know if you find anything I can add! (It's easier when people help me, lol.)
Labels: contemporary, crime, essays, fairy tale, fantasy, fiction, graphic novels, horror, kids, magic realism, manga, media tie-in, non-fiction, paranormal, poetry, review, wrap-up, ya
Wednesday, 24 August 2016
Genre: Graphic Novels, Manga, YA, Fairy Tale, Fantasy, Media Tie-In
Series: Disney Kilala Princess
I received a free digital review copy of this book via NetGalley. NetGalley provides review copies from publishers in exchange for fair and honest reviews.
This is a re-release of one of Tokyopop's most popular titles.
Seeing as how Tokyopop are back, back, back! and working very closely with Disney, they're doing another release of the series, which was first given unto the world (sorry, I'm in a really weird mood,) circa 2007.
It's still as cute today ;)
This is a manga volume, and reads right to left, in traditional manga style.
Kilala is living in admiration of her favourite Disney princesses. Little does she know that they're about to help her save the day!
This book is so sweet and cute and kawaii that I'm going to get a cavity from all the sugar! At the same time, it's not sickeningly-sweet (which takes some skill!)
There are bits of what can only be described as swashbuckling action, and Kilala is a relatable heroine with a pet mouse. I defy you to resist the sweetness!
I actually quite liked the romantical-aspects, true it verged on insta-love, but managed to juuuuust dodge the most annoying parts of that trope (plus, we're dealing with Disney princesses - insta-love is going to happen. Deal with it.)
I also liked the way Snow White (our princess for this volume,) was a part of the story without dominating it - this is Kilala's story, not Snow's.
But neither do the Disney elements feel forced - they're woven in very well, particularly when you consider the balance of the manga style with the more traditionally 'Western' style of Disney princesses, which this volume totally pulls off :)
Listen very carefully, I shall say this only once (let me know if you got that reference, I will love you forever,) -
GIRLS SHOULD NOT BASE THEIR ENTIRE FUTURE PLANS ON MEETING A HANDSOME DUDE TO MARRY. #JustSaying.
Also, if you're looking for something deep and intellectual? Yeah... this isn't the book for that.
Don't get me wrong, it's sweet, it just has the net substance of cotton candy (hence the cavities.)
A fun and sweet manga that any fan of princesses will love, but which is perhaps a little heavy on the gender stereotyping in places.
Still, it's an enjoyable read. :)
Liked this post? Try these:
Thursday, 11 August 2016
TV Trailers
Here's Netflix's trailer for their adaptation of Marvel's Luke Cage:
Looks pretty cool. Unfortunately, I still don't have Netflix.
And before everyone starts going 'it's only x-pounds per month' let me remind you that I don't have a lot of money. And the money I do have goes on books.
Luckily, since I live in my parents' house, I mooch off of their Sky+ a lot ;)
Graphic Novels
This week I read
Vertigo's First Offenses (
UK
-
US
)
which is more an anthology of single issues than a graphic novel, but I'm totally putting it in this section
(because I feel like it dammit!)
So, like I said, this is made up of single issues. 5 series starters from
Vertigo
's versatile range of devil-may-care comics:
The Invisibles #1
Fables #1
Preacher #1
Sandman Mystery Theatre #1
Lucifer #1
My favourites had to be...
Preacher #1
and
Lucifer #1
.
Both are kind of based in subverted religious iconography - so I really don't know what that says about me! But they were pretty damned good, and I may read more of these series in the future.

All in all, a good little selection - and it really shows the quality of the Vertigo imprint :)






I've just finished an excellent essay collection -
Last Night, A Superhero Saved My Life (
UK
-
US
)
- edited by
Liesa Mignona,
about how superheroes make a difference to every-day life. It's great.
I'll be reviewing it soon :)
-0-
I also managed to scare my cat (the fluffy white boy-cat, Jango, in case you're familiar with my cats) by laughing at it at a random moment.
And I managed to succeed in being exceptionally awkward and tagging a random instead of Linda on Twitter!
(I need the Coffee God now Linda... please?)
Like this post? Try These:
Saturday, 27 February 2016
Since I'm aiming
to write this year
- and write a lot - I figure it's OK to put some of my wackier ideas down on paper (or... y'know, screen,) for all to (hopefully) laugh at.
So I came up with the idea of
'Cracked Glass Slipper'
posts.
Let me explain:
I've been toying for a while with the idea of retelling fairy tales in my own way - basically, as if I'm writing crack fanfiction. Only, this will be suitable for under 18s, unlike most crack fiction.
I'm under no illusions - this may go horrifically wrong pretty damn quickly. In which case I'll abandon it and pretend that it never happened *nods, smiles, laughs nervously.*
At the moment, what I have is random at best - it's demented, to be honest. I worry about myself sometimes.
And I have no idea whether it's any good - but then, I suppose I'll never know unless I share it with you all.
I apologise in advance if I scar you all for life. (It's a possibility at this point.)
Each story will be about made up of multiple parts (I think - not an awful lot of
organisation
happens in my head, so I'm not all that sure yet.) So each one will be serialised on
Diary of a Reading Addict
over several weeks/months (dependant on how long they are, and how quickly I write them.)
Hopefully
this will be fun - and
hopefully
you'll all come along for the ride.
I'll be starting with Cinderella soon...
Like This Post? Try These:
Sunday, 29 November 2015
Are we too old, too bitter, too disenchanted, for happily ever after? Do we believe that the princess lived a happy life, after she and the prince rode into the sunset together? Are we able to believe that everything, from the moment the book ends, is sunshine and rainbows?
True, a lot of books do not end happily - and/or don't end with the characters actually living - but is this our fault? Do we, as fans and readers, not want the ra-ra happy ending, but instead the dark, the ambiguous, the uncertain?
Obviously, it's difficult to talk about endings without wandering into spoilerific territory - and that is not something I really want to do - but if you think of a lot of popular books and series, do they end in happiness?
Those that do go for the fairy-tale style ending are often ridiculed and lambasted for being too unbelievable. That, in a way, is kind of sad; happiness and good fortune is no longer something that we believe we can have - so we don't want the characters in the books we read to have it either.
But then, despite the happy endings (though not for the villains,) fairy tales were originally quite violent. There was torture. There was death. There were beheadings and all sorts of random magical crap. (If you're interested in some good quality retellings of original fairy tales then I'd go for Philip Pullman's
Grimm Tales: For Young and Old
-
I utterly love that book.)
My dear lovely nerds, I honestly wish you to find some
hope
in your lives - it's ok to be realistic, and often it's quite frankly beautiful to err on the gothic side of life (I certainly do!) - but sometimes you have to look to the brighter things. Even if that means a splash of the unreal.

Thursday, 17 September 2015
Title: Charm (US Link)
Author: Sarah Pinborough
Genre: Fantasy, Fairy Tale, Romance
Series: Tales From the Kingdom (#2)
A few starting notes:
Even though this is the second book in Sarah Pinborough's Tales From the Kingdom series, it's not really a sequel as such. Oh, I'm sure there are elements which tie-in with the other books of the series, but I haven't read any of the others, and can confirm that this can certainly be taken as a stand-alone book.
Premise:
Handsome prince? Check. Magic? Check. Ball? Check. Fairy godmother? Urm... there's a bit more to that one. Cinderella? Well, yeah... but she's a bit... different. So, come to think of it, are the step-sisters, and the happily ever after deal is quite complex... This is a fairy-tale, sure, but are you ready for it?
Best bits:
I love the whole inter-weaving fairy-tale world that Sarah Pinborough has created - it's full of magic, but also a creepy gothic-ness that creeps into everything.
I also really admire anyone who can bring a zing of freshness to a tale that's been told so many times - and Pinborough does, by showing that even in fairy-tales, reality is different to what you were expecting.
The illustrations give a welcome portion of gothic pizzazz to the mix, and the book is most definitely readable. I finished it in a matter of days, and found it oh-so-easy to pick up and read, and not so easy to put down again.
Not so great bits:
A lot of people will find the degree of naughtiness going on here jarring when compared to the squeaky Disney-clean image of Cinderella et. al. they were provided with in childhood. Some may even find it distasteful - I'm honestly not all that bothered, since it didn't really get in the way of the plot, but a lot of people won't like Cinders erring towards debauchery!
I know this is fantasy - own world, own rules, etc. But, the main thing that bothered me here was that I felt I couldn't get a good enough feel for the setting - was this medieval levels of technology and styles of fashion, or closer to Victorian? I just couldn't get a handle on it.
Verdict:
Ahhh, this is a book for the ladies (and the men who are secure with their identities.) Grab a cuppa, a cat, and a blanket (and maybe some chocolate? Yes?) and enjoy the hell out of it.