'...he's able to slink into a shadowed Pottery Barn. He makes it past the faint light cast from the skylights in the atrium, then the pain crashes over him.'
I love a good mission fic.
Especially when it's a The Falcon and The Winter Soldier (TFATWS) mission fic.
Especially when it's a TFATWS mission fic with much Bucky whump and lots of hurt/comfort.
And it was my birthday on Wednesday, so I get exactly what I want 😜😘
(Fandom notes:
A mission fic is a fic based on action/adventure media where there's a central, stand-alone-episode-style, adventure-based storyline. May or may not be based on a military mission.
Whump is where bad things upon bad things happen to one particular character, often in the form of serious injury, or multiple misfortunes, this allows room for -
- Hurt/Comfort (H/C), where one character is hurt or ill either emotionally or physically (or sometimes both) and the other character/s comfort them.)
The fic author here describes the premise of this fic as the following:
'every buddy cop show has to have that episode(s) where one of our heroes sets out to do something completely innocuous, and ends up in a life or death situation. This is my humble offering to that particular god.'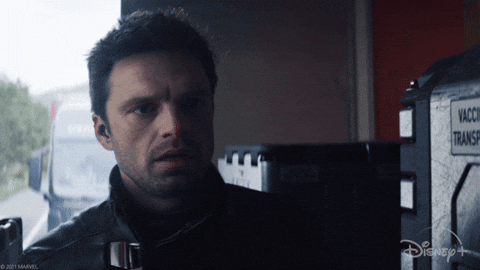 Via Giphy
Basically, Bucky's doing Sam a favour by picking something up at the mall.
Coincidentally, today is the day when a group of armed hostage-takers have put this particular mall on their 'to-do' list.
Cue drama, peril, and bad things happening to our darling Bucky bear: will Sam reach him in time?!
Oh, and for once I've chosen a fic which isn't SamBucky (i.e. Sam + Bucky = romance,) - well, no more so than TFATWS is in the show, anyway.
So my fellow Queer nerds will have to cope with only the obvious subtext. Sorry 😅
Lot's of violence going on here, so please be aware of the following Content Warnings:
- general violence, including gun violence and explosions
- hostage-taking
- serious injury
- blood and mild gore
- blood loss and shock
- murder and attempted murder
- discussions of slavery and human trafficking
- self-sacrificing actions that lead to serious injury and/or danger
- self-blame
...I think that's everything but, as always, be careful while reading, and stay safe dearest nerdlets!
This week's fic, then, is:
Sold, American by LivingProof
Are you a fan of mission fics?
Can you see Bucky being randomly caught up in a situation like this?
Talk to me! 😊💬
You can follow me on Twitter @CeeDoraReads, on Pinterest, and on
Dora Reads @ BlogLovin.
For more ways to support me, check out the Support Me page
Related Reading:
Sharing and commenting is like a late birthday present, wrapped with a bow! 😘