'He was hurt alright. That look wasn't a new color on him; Nandor seemed to be hurt quite a lot lately. Laszlo didn't want him to be alone.'
Vampire. Mockumentary.
Do I have your attention?
Good.
What We Do In the Shadows (WWDITS) is a vampire mockumentary series, based on Taika Waititi and Jemaine Clement's 2014 film of the same name.
The film was set in Wellington, New Zealand, and starred Waititi and Clements as hapless vamps showing around a film crew.
The TV series is set in Staten Island, New York, USA, set around a different group of vampires with Waititi and the NZ crew showing up in cameos every now and then (every cameo is genius, tbh.)
So, my love affair with What We Do In The Shadows looks a little like this:
1. Watch the film
2. Watch the TV series and entirely fall in love with these characters, and empathise way too hard to most of them
3. Finish all 3 series and find myself bereft and needing more Shadows in my life
4. Read. So. Much. Fanfiction.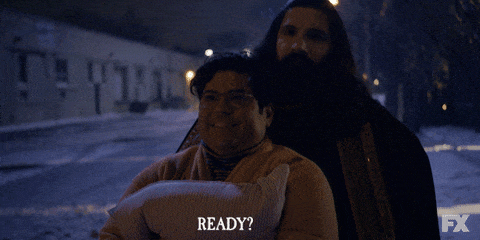 Via Giphy
In a surprise to absolutely no-one, I'm sure, the character which takes up the most room in my brain and heart is Nandor.
...A Queer vampire with depression who does craft projects to show affection and refers to crepe paper as 'creepy paper.'
Yeah... I was hooked in from the first episode. I had no chance at escape, really - I love him.
I love most of them, but I love him.
(Most of the vampires are casually Queer btw - this show is awesomely awesome.)
All of the characters in WWDITS are very distinct, down to speech patterns and mannerisms.
They all have distinct voices, accents, and ways of speaking, and I'm uber-impressed that the vast majority of the fanfiction I've read for this series has their dialogue spot-on.
This fic is kind of gentle, kind of brutal, kind of beautiful.
It's a very simple hurt/comfort fic focussing on the friendship between Nandor and Laszlo.
As awesome as Matt Berry is as an actor, Laszlo's the character I least click with in this series, although I did warm to him more in series 3 - we see a much gentler side to him in the latest series.
(Fandom notes:
Hurt/comfort is a genre/category of fanfiction where one character is hurt - either physically or emotionally - and one or more other characters comfort them. Pretty much does what it says on the tin.)
This fic visualizes a moment when Nandor's big issues from series 3 have reached their high-point, and Laszlo is trying to be a friend in his brazen-but-awkward way.
As such there are SPOILERS here there and everywhere.
The entire fic is SPOILERS all the way - OK? OK. SPOILERS!
I picked this fic because it captures the whole mess of that part of the series perfectly.
And somehow, amongst fandom creators who all have the characterisation down to a fine art, it manages to get Laszlo down the best I've seen so far.
Some SERIOUS Content Warnings for this fic, so please be aware:
- mental health problems (especially depression)
- supernatural self-harm/self-mutilation (GRAPHIC)
- blood and injury (GRAPHIC)
- cults
- forced restraint/imprisonment
- found-family issues
...as always, I might've missed something, so be careful!
This week's fic, then, is:
I Don't Mind Showing You by mmmmph
Are you a What We Do In The Shadows fan?
Do you find yourself relating to and empathising with characters a lot? 😅
Talk to me! 💖💬
You can follow me on Twitter @CeeDoraReads, on Pinterest, and on
Dora Reads @ BlogLovin.
For more ways to support me, check out the Support Me page
Previous Friday Fics Fix posts:
Sharing and commenting is beautiful! 💖