'He had slept every night since they'd defied Heaven and Hell and it was becoming a bit of a habit.'
A lot of Good Omens (GO) fanfiction tends to revolve around the ship 'Ineffable Husbands'
- and this week's fic rec is no different.
(Fandom notes:
Ships are relationships between characters which are supported by fans. Some ships are canon (i.e., official in the source material,) but many are the creation or strongest wishes of fans themselves.
Ineffable Husbands is a romantic and/or sexual relationship between Aziraphale and Crowley from Good Omens.)
For those not familiar with GO, here's the gist:
Aziraphale = Angel
Crowley = Demon
Hijinks ensue to a soundtrack of Queen music.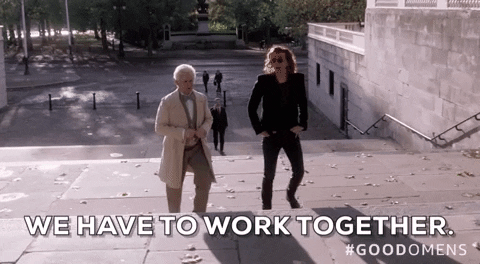 Via Giphy
Obviously, there's a bit more to it than that -
- there's an intended apocalypse via Anti-Christ, the ongoing war between heaven and hell, and the tempestuous interactions between angel and demon, as well as those between a witch and a witch-hunter.
...If you get easily offended by fantasy creators playing around with Biblical themes, this probably isn't the show for you, lol.
Anyway, this fic picks up after the end of series 1 - literally just after series 1.
As such there are SPOILERS everywhere, OK? SPOILERS IN THIS FIC!!!
So that's the whole schtick of this fic:
how Aziraphale and Crowley pick themselves up after the events of series 1.
(And because this is fanfiction, said picking themselves up includes kissing.)
Only a couple of Content Warnings for this one:
- general demonic and religious symbols, references, etc.
- references to torture/execution
- references to previous suicidal tendencies
- references to general violence
This week's fic, then, my nerdlets, is:
Open your eyes, look up to the skies and see by Azzy
Are you a Good Omens fan?
Are you looking forward to series 2?
Talk to me! 😇😈💬
You can follow me on Twitter @CeeDoraReads, on Pinterest, and on
Dora Reads @ BlogLovin.
For more ways to support me, check out the Support Me page
Related Reading:
Sharing and commenting is always appreciated! 😘