It's Thursday, I'm tired, let's get some comics-y superhero-y goodness!
Discussing Ms Marvel
Over at Nerdist, I found some excellent discussions of representation in Ms Marvel, from Indian-American Muslim writer, Maryam Ahmad; these are well worth checking out, I promise.
SPOILERS in all, though - OK? OK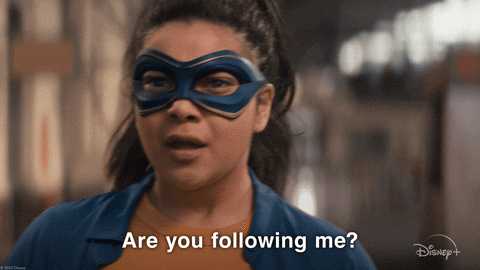 Via Giphy
Check 'em out, they're great:
More Censorship in 'the Land of the Free'
For those who don't know, there is a current wave of book banning and censorship across the USA - this is something that sadly happens periodically, with this current wave targetting LGBTQ+ content in particular.
Queer content is not the only thing under attack - other tried-and-tested targets include Jewish representation and discussions of racism - but LGBTQ+ stuff seems to be the biggest target.
Graphic novels and comics, as they often do, are bearing a fair chunk of the brunt.
Kelly Jensen @ Book Riot has put together a look at the most-challenged comics and graphic novels in the US since the year 2000 - the vast majority of which have some form of Queer content or representation.
Traditional Shameless Self-Promo
Last week's Friday Fics Fix was another example of me being Bucky Barnes trash, by recommending a fic where Bucky is a (possibly) immortal being, and Sam Wilson is his colleague at a record store.
Because why not, I guess?
What do you make of the recent censorship in the US?
Is too much attention given in (internet and/or bookish) media to USA censorship issues, while ignoring problems that exist in the rest of the world (i.e. I have zero clue whether this is a problem in the UK, and I live here)?
Talk to me! 😘💬
You can follow me on Twitter @CeeDoraReads, on Pinterest, and on
Dora Reads @ BlogLovin.
For more ways to support me, check out the Support Me page
Previous Comics Wrap-Up Posts:
Sharing and commenting is always appreciated! 💖