***All Amazon.com links in this post are commission links. This means I earn commission from purchases made in the US***
Please do not use my links to make UK purchases.
It's Thursday, we could all do with some heroes, so let's get some comics-y goodness!
TV
Your girl has Disney+!
Which means I have all the superhero films and cartoons to ease my Anxiety - as well as the general Disneyish goodness!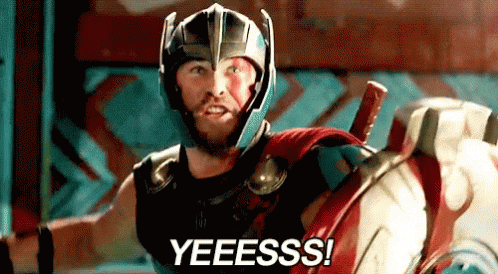 Via Giphy
Film
I finally got around to watching Avengers: Age of Ultron!
Tbh, there are so many Marvel movies, that I'm surprised it's only a handful that I need to catch up on!
I actually had the DVD of this, which The Bestie bought me ages ago, so I decided to put it on before bed a few nights ago while I cuddled my she-cat and did some knitting.
...That makes me sound 100 years old. Which I'm OK with. 😅
Anywho, here's a brief and random summary of my Age of Ultron thoughts:
Yay, more Hawkeye! Still not enough, but when you're a Hawkeye fan, you take what you can get
They need to make Clint deaf, like he is in the comics.
This version of Pietro & Wanda... meh.

I prefer the X-men versions. Where they get to be mutants, and also Magneto's children (comics be weird sometimes.)
Really

under-utilising Pietro

here
This guy's OK, but I'm going with

Evan Peters as my fave Pietro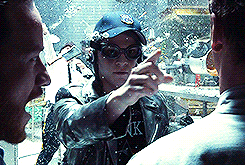 Via Giphy
Plus the cinematography and slow-mo sequences in the X-men movies are

iconic
'She's weird'

is both an extremely accurate and an extremely inaccurate description of Wanda's powers (if only the comics had any f**king clue what they were doing with her...)
Is this their basis for the WandaVision nonsense?

WTF Marvel? I know it's comics canon - but you suck at chemistry.
How hard is it to not create a killer robot?! I mean really. *face palms*
Other Stuff
Since I finally watched Age of Ultron, I also finally watched the Age of Ultron Pitch Meeting from Screen Rant.
As always, it's both hilarious, and a pointer-out of plotholes. 😉😎
Warning: flashing images, SPOILERS EVERYWHERE!!!!, violence, adult references
Marvel have some new characters which... I have concerns.
I mean, they've only released the promo stuff, so it's possible that the way these characters are written will be surprisingly nuanced and clever, and will somehow completely justify naming a Black Non-Binary character Snowflake...
But... well, there are definite issues to that whole set-up. Am I right?
It feels like Snowflake and their brother Subspace are an attempt to pander and condescend to diversity - in a way that's actually fairly contemptuous and a mockery of the ideals and equality they purportedly stand for.
(...when I'm tired it sounds like I swallowed a dictionary. #Sorry!)
Comics Drake explains it all far better than I could:
Neko Neha over @ Biblio Nyan gave us their thoughts on the first two 'The Walking Dead' graphic novels.
Warning: this link references the Coronavirus/Covid 19, and discusses racism/anti-Black sentiment
Kristen Brand gave us her list of 9 Superheroines who don't have (or need) super-powers
And to end this week, you can check out last week's Friday Fics Fix for an awesome Stucky (Steve/Bucky) fic rec!
Because the world is just that little bit better
when Captain America has a boyfriend
!
What do you think of the issues around the new Marvel characters?
What Marvel movies have you not yet seen?
Previous Comics Wrap-Up Posts:
Sharing and commenting is awesome-sauce!