It's Thursday, the world is a very strange place, let's get some comics-y goodness!
Film Trailers
A new little trailer for New Mutants!
Maybe this problem-bogged Cinderella of a film
will
go to the ball! (...not sure where that analogy came from, but I'ma roll with it! 😅)
(Warning: flashing images, horror imagery)
[video no longer available]
TV
I'm thinking I'm gonna end up getting Disney+ when it launches here in the UK at the end of the month.
(Although, I've changed my mind about this like, 10 times today! ...I have a tendency to freak out about money 😅)
I've been working out the money and... I
think
I can do it! I've recently dropped one of my expenses, so I think I can pick up a Disney+ subscription with no knock-on on my bank balance.
I might be able to watch Loki and my Bucky Bear after all! 😊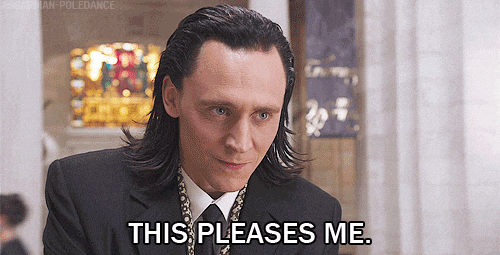 Via Giphy
Don't feel bad if you can't afford/can't justify the expense of Disney+ though dearest nerdlets, honestly - FOMO can f**k the hell off.
There is too much content out there, and we'll never watch all of it.
I was looking at my YouTube page the other day, and thinking that I could watch only YT for the rest of my life, and still not run out of stuff to watch. FOMO just ain't worth it.
Other Stuff
And to end this week, here's a review of manga The Poe Clan Vol 1, from Kayleigh Hearn at Women Write About Comics.
Are you looking forward to New Mutants?
Has Disney+ already launched where you are? Any good?
You can follow me on Twitter @CeeDoraReads, on Pinterest, and on
Dora Reads @ BlogLovin.
For more ways to support me, check out the Support Me page
Previous Comics Wrap-Up Posts:
Sharing and commenting makes me sooo happy dearest nerdlets! 😊
'Take any moment, any time' is from
Casual Affair
by Panic! At the Disco