It's Thursday, it's November (somehow,) let's get some comics-y superhero-y goodness!
A Special Christmas, Guardians-Style
Marvel's Guardians of the Galaxy are getting a Christmas special on Disney+ this year and it looks awesome!
The trailer was so cool!
Guardians are some of my (admittedly many) faves, so I'm really looking forward to this.
I love Mantis.
This looks both ridiculous and sweet - and Kevin Bacon: just, Kevin Bacon.
It's amazing 😅
Warning: flashing images, mild violence, SPOILERS for Marvel-ness, grief
Welcome To The Madisynn Cinematic Universe
There are SPOILERS for episode 4 of She-Hulk in this section.
Please, no SPOILERS for episodes after 4, thanks!
So, I watched episode 4 of She-Hulk and...
I love Madisynn.
Like, I don't know whether the intention was to make us laugh at her instead of with her, like it would be in so many other shows (if so, not cool, Marvel,) but regardless - I love her.
She's so confident, happy with being who she is, and ready to take on anything. Nothing seems to bother her that much. She rocks.
(And I'm clearly not the only one who thinks so - the Internet loves her.)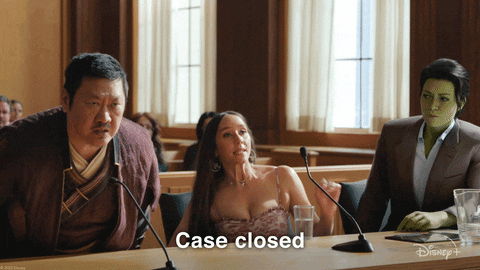 Via Giphy
Quick logic/legal note on the plot (for the uber-nerds, lol):
(Bearing in mind I'm neither a legal expert nor American,)
Surely that ring is the property of the masters of the mystic arts...?
I mean, it was given to Donny Blaze on the understanding that he would be using it to study the mystic arts with the sorcerors at the place where Wong hangs out when he's not in the USA, ergo the end of his time as a student should have meant an end of his time with the ring - it wasn't a gift.
And no ring, no problem.
Also, Madisynn could not possibly consent to being sent on a dangerous, multi-dimensional, trip without being informed of the risks beforehand, and being protected as much as possible.
And, just to finish, I'm pretty sure that transporting people to another dimension without their express permission and no paperwork (e.g. passport or whatever,) would count as people trafficking, and maybe even kidnap.
C'mon Jen! Think like a lawyer! 😅
Shameless Self-Promo Time!
Over on Medium I talked about the Ant-Man 3 trailer...
...or you can see the same info and talky-talk right here on Dora Reads in last week's CWU post here.
Have you seen the trailer for the Guardians special?!
Do you love Madisynn from She-Hulk?
Talk to me! 😎💬
You can follow me on Twitter @CeeDoraReads, on Pinterest, and on
Dora Reads @ BlogLovin.
For more ways to support me, check out the Support Me page
Previous Comics Wrap-Up Posts:
Sharing and commenting keeps me giving you my own special brand of nerdiness! 😅