'Ava stops and stares. There is Sara Lance, trained assassin and former vigilante, face down on her desk drooling. When Sara snorts and a little drool bubble forms at the corner of her mouth, Ava has to slap her hand over her mouth to keep from laughing out loud.'
Sara Lance, former Black Canary, current White Canary, general bad-a**, assassin, and time-ship captain; an amazing hero.
She's awesome. She's also a Bisexual lady with an open preference for the ladies over the dudes.
She leads the way for Queer rep. in the Arrowverse (that's all the CW's DC superhero shows.)
I would also very much like to marry her, or maybe the actress Caity Lotz who plays her. Either is fine by me.
Previously, I've rec'd fics about Sara and her former girlfriend, Nyssa Al-Ghul, but this latest series of DC's Legends of Tomorrow has brought a new love interest for Captain Lance.
This is mildly SPOILER-Y by the way.
Ok? Ok.
So Sara's new lady is the smart, successful, director of the Time Bureau, Ava Sharpe. And I love this ship so much!
(Ship = romantic and/or sexual relationship.)
'Ava slumps back onto the stool, takes a shaky breath and pulls Sara's hand into both of hers.'
There's a couple of moments of drama in this fic - these are time-travelling superheroes, after all - but largely this fic is just really sweet!
Positive F/F relationship fanfiction! You gotta totally love it! 😍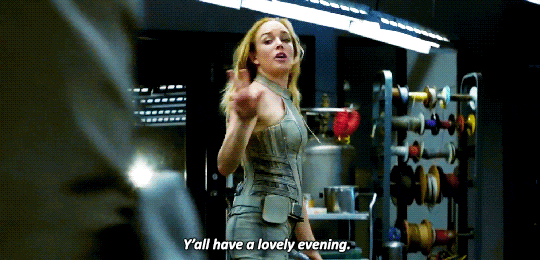 Via Giphy
This week's fic, then, is:
Do you know any positive F/F relationship fics? Have you seen Legends of Tomorrow? Talk to me! 😁💬
You can follow me on Twitter @CeeDoraReads, on
Dora Reads @ BlogLovin,
and on Google+. For more ways to support me, check out the Support Me page
Related Reading:
Last updated: 7th July 2018