'Peter grunts. His eyes open only slightly, but it doesn't look like he understands where he is. The kid is like dead weight slung over Tony's metal-clad shoulders. He's also freezing cold.'
Let's have some Tony-Peter Father-Son-type-cuteness with a side of self-care, shall we?
I love that fics like this exist!
I also love that fics can take a random thought, like, for example 'what if Peter Parker has the same lack of thermoregulation as a spider?' and f**king runs with it!
And this kind of hit the spot for yours truly...
NOT because I have spider-related issues -
(we all know that I was actually bitten by a radioactive LIBRARIAN 😉)
- but because one of the less-expected
symptoms of my Depression
/Anxiety combo is poor thermoregulation,
especially of the hands and feet.
Basically - I get cold more easily than other people. And sometimes I don't notice it for a long time.
(This next section, I'm gonna talk about depression - so this is your head's up!)
If I'm not careful, I get into a state of total exhaustion, where I'm also really cold - like Peter in this fic.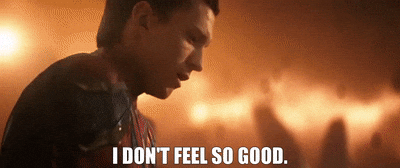 Via Giphy
When I was first getting really ill, I would come home from work, collapse onto the sofa under about three blankets, shivering, exhausted, with my muscles spasming.
Yep, depression's a lot of fun.
"Shut up and listen, Strange. How do you wake up a dormant spider?"
So, this fic is both a cute excuse for Tony Stark to get all protective over his wee smol spider-kid, and a good reminder to everyone to stay warm!
(Eco note: if you can manage to stay sufficiently warm through blankets, clothes, hot water bottles, etc., instead of turning up the central heating, then even better! #GoGreen #StayWarmAndSafe)
So this week's fic is:
(Safe and) Warm by one_sad_oreo
Do you have trouble keeping warm?
Do you enjoy when fic authors pick out the little details to focus on?
You can follow me on Twitter @CeeDoraReads, on
Dora Reads @ BlogLovin,
and on Google+. For more ways to support me, check out the Support Me page
Remember to share and comment! 💖
Last updated: 17th Nov 2018