OK, we got some Harley, we got some Joker, we got some other stuff going on.
It's Thursday, and it's time for that comics-y goodness!
TV Trailers
A new trailer for season 3 of Marvel's Runaways!
And clearly, the Arrowverse isn't the only place where sh**'s goin' down this season!
(Warning: flashing images, violence, pregnancy body horror)
Film Trailers
OMG new Birds of Prey trailer!!!!
Or, to give it its full title, BIRDS OF PREY and the Fantabulous Emancipation of One Harley Quinn 😁
Yep, one part Marilyn Monroe, one part Marilyn Manson, our Ms Harley is breaking out! (And it's gonna be
awesome!
)
(Warning: flashing images, strong language, violence, mild ableist language)
Films
After saying last week that I didn't know whether I'd see JOKER... I ended up going out on Friday and seeing JOKER 😅
...Just the way life turns out sometimes!
What did I think of it?
Meh. It was OK. Quite good.
Not brilliant. Not terrible.
Sorry - I know these things are s'posed to be one or the other. But I've never been one for complying to limited choices. 😉
Was it pretentious?
Yes, in places it def. was. But not as much as I thought it would be.
Pacing was slow af though, and I think it's cos they were going for 'artistically brooding.'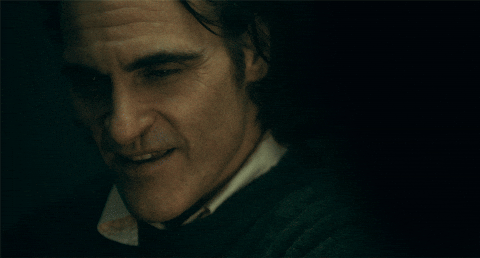 Via Giphy
Was the mental health rep. cr*p?
Yes. Overall.
It had moments that were good - showing the lack of support and understanding for people with mental health problems, for example.
But overall it's a hot mess in the mental health regard.
To be fair, I've never seen The Joker done in a way that
wasn't
a hot mess in terms of mental health rep. So this is just more of the same, really.
Did I think it was a 'good' depiction of The Joker?
Yes and no...
(Hi, I'm Cee, and I'm an infuriating walking contradiction - pleased to meetcha!
😎
)
...the parts after he became The Joker were great. Spot on.
(The Purge films get us there faster, but the result's the same. 😅)
The problem is, I didn't believe the transformation.
I didn't believe Arthur, as a character, was bold enough, cruel enough,
composed
enough to become the Joker as quickly as he did.
The Bestie disagreed so... *shrugs* Who's to say? I liked Jared Leto's Joker, and no-one else seems to, so...
(The best Joker, though? It's not Phoenix, not Leto, not Nicholson, not even Ledger. It's
Cameron Monaghan
. I will not be open to discussion on this.)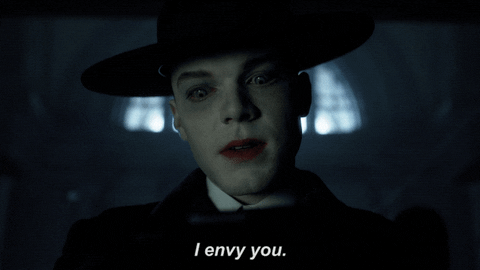 Kid can effing act!

Via Giphy
Other Stuff
And wouldn't you know it? The folks at Screen Rant have already made a JOKER pitch meeting!
(Warning: SPOILERS, violence & murder)
Have you seen JOKER? Do you want to?
What do you think of the Birds of Prey trailer?
You can follow me on Twitter @CeeDoraReads, on Pinterest, and on
Dora Reads @ BlogLovin.
For more ways to support me, check out the Support Me page
Previous comics posts:
Sharing & commenting is so totally awesome! 😎
'Running around like a clown on purpose' is from
We Are Golden
* by Mika
*affiliate link
Last updated: 27th Dec 2019