***All Amazon.com links in this post are commission links. This means I earn commission from purchases made in the US***
Please do not use my links to make UK purchases.
It's Thursday, and everyone could do with a helping of superheroes - right? So let's get some comics-y goodness!
Film
I re-watched Guardians of the Galaxy this week
(me + cat + bed + knitting + superheroes = self-care level-up!)
and... I love that film!
Like, the tone is just this combination of grunge/punk and batsh** colour - and that's got my name written all over it, let's be honest!
And I still relate to Rocket Raccoon way,
way
, too hard!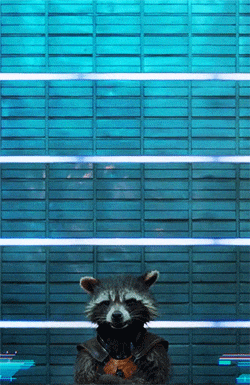 Via Giphy
Other Stuff
YouTuber Jack Saint has done the one thing I thought I was alone in: he's defended Jared Leto's Joker!
(Warning: flashing images, violence, references to sexual assault, general Joker and Jared Leto related problematic-ness, v. brief reference to Coronavirus/Covid 19)
...I mean, apparently I'm still alone in thinking that Suicide Squad in general wasn't a bad film.
But at least someone, somewhere, understands wtf I mean when I say 'I liked Jared Leto's Joker!'
And to end this week's wrap-up, last week's Fics Fix features Steve Rogers and Bucky Barnes being awesome at the future!
Who's your favourite Joker?
What do you think of Jared Leto's Joker?
(Oh yeah, I went there! #ITooLikeToLiveDangerously!)
Are you a Rocket Raccoon fan?
Previous Comics Wrap-Up Posts:
Sharing and commenting is always appreciated! 💖