'Ginny started to laugh. The Death Eater stopped walking. He was speaking angrily now, growling or snarling something.'
Argh, how do I explain this week's fic?!?!
Well, for a start, it turns out good F/F fics are like buses - nothing for ages, then they come along
one after the other.
This fic is from the Harry Potter fandom, and is a beautiful (and beautifully written,) slow-burn romance between Ginny and Luna.
I've always loved Luna Lovegood - mostly in the way of a Queer teen quandry of 'do I want to be her, or do I want to be with her...?'
I also think that her and Ginny together works surprisingly well.
Like, I think most of the reason why some people don't like Ginny is that her and Harry, as a couple, doesn't really work (imho.)
I think Ginny and Luna together just kinda... clicks, y'know?
They'd balance each other out, but they're not so far apart from each other, personality-wise, that they'd end up clashing all the time.
Ginny isn't 100% the same here as she is in the books/films, though.
The author has decided to take something which is just a hint in the books - Ginny being a bit reckless - and run with it!
(It's amazing - this fic is amazing!)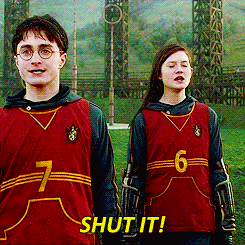 Via Giphy
With that in mind, there's some warnings to give here:
- injury
- blood
- violence
- reckessness/thrill-seeking to such a degree that it borders on self-harm
#StaySafeDearestNerdlets
This week's fic, then, is:
Luna and Ginny - yay or nay?
Do you think people react to Ginny unfairly?
Sharing and commenting is lovely! 😊