***All Amazon.com links in this post are commission links. This means I earn commission from purchases made in the US***
Please do not use my links to make UK purchases.
It's Thursday. It's October 2020. Let's get some comics-y goodness!
Everything I have for you this week is in the 'other stuff' category, for which we shall blame Loki.
Other Stuff
Supergirl's next season (series 6) will be its last! 😢
In related news, lead actress Melissa Benoist announced the arrival of her baby with co-star Chris Wood (who plays Mon-El.) 👶
Kitty Pryde is Proud!
Yes, after years of teasing - including casting Elliot Page, which counts as a Queer indicator all by itself - X-men character Kitty Pryde has been confirmed as a Queer Sapphic chick (probably Bi.)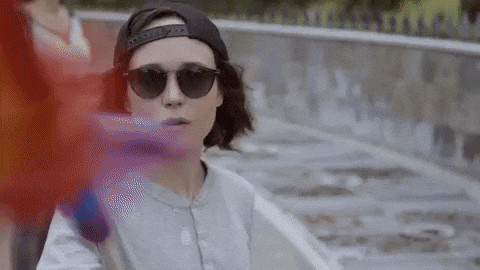 Via Giphy

A recent comic has her and Rachel Summers (an alternate timeline daughter of Scott and Jean - comics are weird,) kissing on-page. Can't get much more confirmation than that!
And to end on some shameless self-promo, last week's Friday Fics Fix post features John Constantine and Zari Tomaz from DC's Legends of Tomorrow.
Will you miss Supergirl?
Are you a Kitty Pryde fan?
Talk to me! 💜💬
You can follow me on Twitter @CeeDoraReads, on Pinterest, and on
Dora Reads @ BlogLovin.
For more ways to support me, check out the Support Me page
Previous Comics Wrap-Up Posts:
'Fabulous kids today, they're all being who they were born to be' is from LGBTQIA (A New Generation) by Matt Fishel
Sharing and commenting is always super-appreciated! 💖
Last updated: 2nd December 2020