'"Oh, you're going to be a regular bag of charms, aren't you?" Mycroft goaded.

"Oh, shut up Mycroft!" Sherlock yelled back.'
Sherlockian fanfiction rules, let's be honest.
No-one can work quite so hard as the Sherlockians to turn a positive dearth (...I love that word, shutup,) of canon into a total avalanche of fan content.
(Fandom notes:
Sherlockian = fans (especially fandom-interacting fans) of BBC's Sherlock TV series.
Canon = official stuff in a book/series/film/whatever)
So, before we go any further: things are gonna get SPOILER-y, ok? SPOILERS!
BEWARE THE SPOILERS!!!!
OK, great.
So this week's fic is canon divergence after The Fall.
...in Serbia, to be precise.
Sherlock's in a bad way - John and Mycroft to the rescue!
Expect much pining between John and Sherlock, angst involving the same, and Mycroft being like: JUST KISS!
(And yes, I tried to find a gif of that moment from Pirates of the Caribbean where Barbossa yells that, but I couldn't - so just imagine it, k?)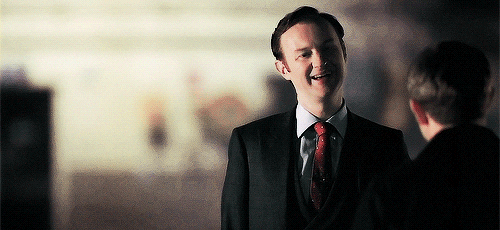 Via Giphy
(Fandom notes:
Canon divergence = an AU (alternate universe) which follows canon (official stuff) up to a point, and then goes off in its own direction.
The Fall = one of the many ways to reduce Sherlockians (Sherlock fans) to a quivering mass of incomprehensible pained noises.)
As mentioned, there is much the angst, so please be aware of the Content Warnings:
- torture (GRAPHIC)
- hallucinations
- injuries and blood (GRAPHIC)
- descriptions of medical procedures (mild but present)
- general violence, including references to guns
- guilt
- grief
- relationship issues
- low self-esteem
- internalised ableism (wanting to not be 'a burden' etc.)
- references and flashbacks to suicide/attempted suicide
As always I hope I've covered everything, but please pay attention to the fic author's tags, and take care while reading.
This week's fic, then, is:
Are you familiar with The Fall?
Read any good fanfics lately?
Sharing and commenting is on the side of the angels! (yes, that's another Sherlock reference) 😇