'The night wore on, and Merlin still hadn't found anything. The words were beginning to blur together on the page no matter how much he tried to clear his vision, so he finally gave in and went over to wake Lancelot.'
I love the BBC TV show Merlin - and even years after it ended, it has a thriving fandom online.
...which, lucky for us, means that there are fic writers busily scribbling away to this day.
This week's fic is a fun dash of sword-and-sourcery, set in a slight AU to the series.
So, in this version of Camelot, all the knights are present and accounted for, and Merlin is actively acting as the court's sorceror.
There's also some expendable Sir This-and-That style characters, cos sometimes you need expendables, y'know.
(Fandom notes:
AU = Alternate Universe. The same, but different, to the universe we're used to the action taking place in.)
So the basics of this fic is that something is killing the good people of Camelot in their dreams.
In order to catch this fantasy creature with Freddy Krueger-style appetites, everyone has to stay awake as much as possible. Which doesn't lead to the most logical planning in the world, tbh. 😅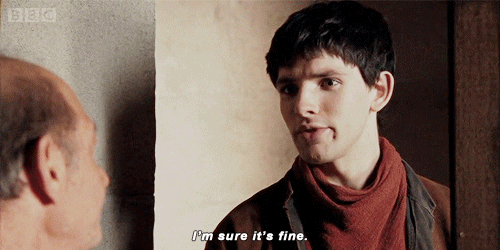 Via Giphy
It's really light and entertaining, and has the monster-of-the-week vibe that a lot of the Merlin episodes - especially the early ones - have in spades.
It's a little like a mission fic, only more fantasy-y - so a quest fic, maybe? I dunno.
Whatever it is, it's a fun read.
(Fandom notes:
A mission fic is a fic based on action/adventure media where there's a central, stand-alone-episode-style, adventure-based storyline. May or may not be based on a military mission.)
A couple of Content Warnings:
- sudden unnatural deaths
- dead bodies
- mild horror elements
- general violence
- family issues
- references to persecution and burning at the stake
...as always, my Content Warnings lists aren't exhaustive, so be careful when reading.
This week's fic, then, is:
Sleep Tight Don't Let The Nightmares Bite by Aini_NuFire
Are you a fan of monster-of-the-week style storylines?
Have you seen Merlin?
Talk to me! 😊💬
You can follow me on Twitter @CeeDoraReads, on Pinterest, and on
Dora Reads @ BlogLovin.
For more ways to support me, check out the Support Me page
Previous Friday Fics Fix Posts:
Sharing and commenting is simply magical! 💖