'An alarm was blaring, and once Nate came to his senses he realized he was standing outside a bank, holding a sack full of money.'
I'm still mourning for my beloved Legends of Tomorrow (LoT) after it's beautiful batsh**tery was cancelled a mere few weeks ago
*Swoons on ye olde timey fainting couch*
(...I have no idea where that came from - let's just keep moving... 😅)
For any other fandom, this would be crack - but not LoT!
...This could legit. be an episode plot, and it actually wouldn't be their most outlandish or bizarre.
(Fandom notes:
crack = fanfiction so utterly bizarre and batpoop that it's more than a little, well, cracked. (And/or a drugs reference.))
Mick Rory is one of the original LoT team who went all the way from series 1 to series 6.
He's a macho thug who writes romance novels.
Because this is Legends, and Legends is amazing.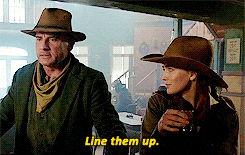 ...There's a sad lack of LoT gifs on Giphy, so you might've seen me use this one before. Gif via Giphy.
In this fic, due to magical shenanigans, much of the team get sucked into the first draft of Mick's new novel.
...Which is a thriller/romance mash-up.
Cue hijinks! Lol.
Despite the relatively large amount of main Queer characters in LoT...
- this fic decided to make Mick Queer too, because why not? Lol.
So there's an element of M/M romance with Fire and Ice (Mick Rory and Leonard Snart) which... was actually a really sweet thing about dealing with grief and messy emotions.
...Unexpectedly lovely! 😊
And it's well-written.
And you know I have no choice when it comes to well-written fanfiction.
I must rec.
These are the rules.
(Oh, and there are LoT SPOILERS in this fic, if you hadn't figured it out already.)
A few Content Warnings for this one:
- general violence
- bank heists
- prison breaks
- (un)-natural disasters
- grief
- situation-forced Coming Out (supportive environment)
...I think that's everything, but as always - be careful! I might've missed something.
This week's fic, then, is:
First Draft by Queen_Woomy
Are you a LoT fan?
Do you love that Mick's a romance writer?
Talk to me! 😁💬
You can follow me on Twitter @CeeDoraReads, on Pinterest, and on
Dora Reads @ BlogLovin.
For more ways to support me, check out the Support Me page
Related Reading:
Sharing and commenting keeps the fangirling going! 😊