'John's gotten sick in plenty of bars, but he's almost sure that this is the first time alcohol hasn't been involved.'
Ah, John Constantine.
A moody, broody, British Bisexual warlock and master of the occult, who's a character in my beloved Arrowverse show Legends of Tomorrow? And is played by a Welsh actor (Matt Ryan)?
Yeah, if you know me at all, you know that I had zero chance to resist.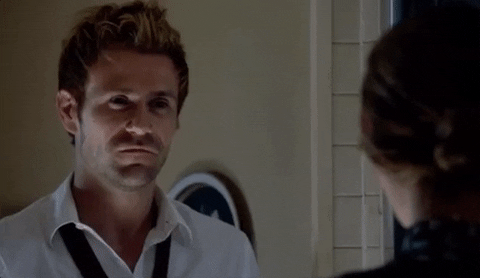 Via Giphy
(Fandom notes:
Arrowverse = the CW's DC shows. They've tried to rename it the CWverse, but it's the Arrowverse.)
So I love Constantine.
I love the comics. I love the character. I even loved the Keanu Reeves movie, which has something of a mixed reception amongst fans.
This week's fic is a DC's Legends of Tomorrow fic in which John Constantine has magical-shenanigans-related food poisoning.
It's shameless whump and hurt/comfort with an important message about letting other people help you.
Because fanfiction tells me what I need to hear 😅 (as does the Arrowverse generally.)
(Fandom notes:
Whump - where all the bad stuff happens to a particular character/some particular characters.
Hurt/Comfort - fics where a character gets hurt and is comforted/taken care of by other characters; also called h/c)
Content Warnings for this one, dearest nerdlets:
- ingesting really gross things
- vomiting a lot
- brief general violence
- self-worth issues
- blood
References to:
- alcohol and alcohol abuse
- child abuse/neglect
- cancer
- being hospitalised for mental health reasons
As always, I might've forgotten something, so please take care!
This week's fic then, is:
A Team Player by telm_393
Are you a Constantine fan?
Do you watch Legends of Tomorrow?
Talk to me! 😊💬
You can follow me on Twitter @CeeDoraReads, on Pinterest, and on
Dora Reads @ BlogLovin.
For more ways to support me, check out the Support Me page
Related Reading:
Sharing and commenting is awesomely awesome! 💖