Hater-busting and fangirling.
F**k yeah! It's time for another Comics Wrap-Up 😀
Film Trailers
Every time I arrange to go watch Captain Marvel with The Bestie, we end up having to reschedule - argh!
Oh well, at least I have this hater-busting trailer to keep me going until we make it to the cinema 😎
(Warning: flashing images)
Other Stuff
...Because a female lead who isn't dependent on the male gaze is the most scary thing on earth to their fragile little privileged egos.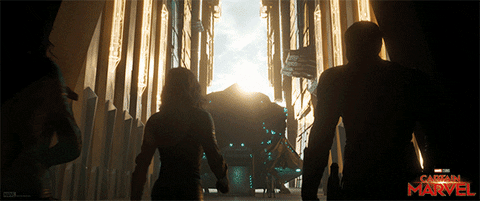 Via Giphy
But it pretty much back-fired on their a**es, cos you can't buy that level of publicity! (So many news sites picked it up. So. Many.)
So thanks guys. And by the way, Captain Marvel is doing just fine.
I think Aidan Gallagher is too talented.
This kid plays Number Five on Netflix's Umbrella Academy (ridiculously well... he's scary-good at acting,) BUT also is a UN Goodwill Ambassador, a musician, AND he's freaking taller than me!
He's 15.
15.
IT SHOULDN'T BE POSSIBLE FOR HIM TO BE THIS TALENTED!!!!
Check him out covering My Chemical Romance's Cancer:
(Warning for subject matter - this song does what it says on the tin.)
And to end this week, and to fuel my Umbrella-Academy-obsessed heart, Rachel Paige @ Refinery29 explains that it's NOT JUST ME. KLAUS IS EVERYTHING!
Is Aidan Gallagher too talented?
Are you on-board the Captain Marvel hype-train?!
You can follow me on Twitter @CeeDoraReads, on
Dora Reads @ BlogLovin,
and on Google+. For more ways to support me, check out the Support Me page
Previous Comics Wrap-Up posts:
Sharing and commenting is epically epic! 💜
'But you're never gonna learn, learn, learn' is from
Crazy = Genius
* by Panic! At the Disco
*affiliate link
Last updated: 15th March 2019