...Not that I'm particularly aiming to. But I'll give myself the option!
Yes, the day this post is published
(15th Sep, unless I pushed 'Publish' instead of 'Schedule' again! 😅)
is my birthday!
While I'm hoping to have fun and enjoy myself today... I have had some mixed feelings in the days leading up to today.
See, for my entire life, my birthday has been a few days before my grandfather's.
As some of you know, my lovely Grampa passed away in December last year.
In a few days' time, he would have been 90 years old.
So it's kind of weird this year.
And I miss him. A goddamned lot.
And I know he'd want me to enjoy myself - but, as I've mentioned plenty of times before, grief doesn't give a flying f**k about 'should' or 'have to.'
Grief feels however grief feels.
But I'll enjoy it where I can - my grandfather was the best person I have ever known at enjoying the little things.
He was, hands down, the smartest person I've ever met.
But he also knew what was important - he was perfectly happy with the simple things.
A cup of tea, his newspaper, and a piece of cake, and he couldn't've been happier if he had all the riches in the world.
What he cared about was family, and love, and animals, and being a kind and gentle person.
...So yeah, I miss him a whole lot. Especially right now.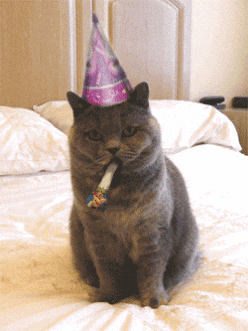 Via Giphy
We've been having 'cake month' in honour of his 90th birthday - he LOVED cake.
...To the extent that we kept finding hidden boxes of cakes everywhere when we were cleaning out his house!
I think there's this general pressure, as well, for us to feel happy in every single moment of days like our birthdays or Christmas.
We often struggle with the expectation and pressure to be happy - a pressure that, ironically, makes us unhappy.
This can be doubly difficult for people with mental health problems (hi!) who often turn any perceived 'wrong' reaction - sadness on a happy occasion, etc. - in on ourselves.
I think sometimes it can be powerful to just say: I hope this isn't sh**, but if it is, that'll still be OK.
So, I hope today will be awesome, but if it isn't, that'll be ok.
If I have moments of sadness, or just plain apathy, that'll be OK.
It's my birthday. And crying is healthy, if you gotta cry, then you gotta cry. And that's OK too.
Via Giphy
If you want to and are able to

- and please don't feel you have to, I still love you regardless! - then you can buy me a coffee for my birthday (and maybe help with the cost of all that cake!)
Do you think pressure to enjoy something can take away from the enjoyment?
You can follow me on Twitter @CeeDoraReads, on Pinterest, and on
Dora Reads @ BlogLovin.
For more ways to support me, check out the Support Me page
Previous Nerd Church posts:
Last updated: 25th Nov 2019