***All Amazon.com links in this post are commission links. This means I earn commission from purchases made in the US***
Please do not use my links to make UK purchases.






You know the voice that's just like: 'you've read the book, now see the movie!'
...that voice doesn't know me at all.
I read a butt-tonne of books.
Like, I read at the 200-per-year kind of speed.
But I watch
loads
of film and TV adaps.
before
I read the book.
You know why?
Well, a couple of reasons (...you know, dearest nerdlets, that I can't have just one reason for anything.):
- I don't give a sh**.
(...in the nicest possible way.)
Life's too short for me to worry about that level of arbitrariness. (I have no idea if that made sense, but there ya go!)
Not that I have a problem with other people worrying about that stuff, but dude, the less I feed my Anxiety, the better.
- Ain't no-one got enough time to read all those books before they see the adap.
And yes, I say that as someone who reads at that 200-per-year pace.
- Sometimes I get to the end of the film, and I'm like - 'Wait. That's a book?!'
So, I figured I'd let you in on just a few of the books I've read because of watching the film/TV series:
1. Interview With the Vampire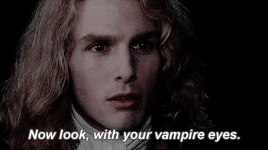 Via Giphy
Brad Pitt and Tom Cruise being sexy Queer vamps.
I first watched
this film
as a teen - probably on one of the FreeView channels like Film4 - and immediately
loved
it.
We were peak-Twilight-craze at the time, and these vamps were SO. MUCH. BETTER. (Sorry Edward Cullen, back of the line!)
So obv., I also ended up reading the
amazing
book by Anne Rice
!
2. Shutter Island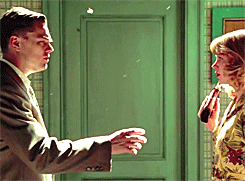 Via Giphy
This one's Leo DiCaprio's fault!
Damn you Leo, you alerted me to one of my now-favourite authors,
Dennis Lehane.
(Although I really wish he'd stop being one of those white authors who use the n-word. Dude, no, not even in context. Just don't.)
3. Jonathan Strange and Mr Norrell
Via Giphy
I wouldn't even have attempted this 1000+ page beast of a book if I hadn't seen the BBC TV series first.
And honestly? I don't think I would have enjoyed this one as much if I couldn't picture the actors in my head.
Plus, it gets kinda complex!
Alternate histories of the Napoleonic wars including curses, magicians/warlocks, and Faeries, tend to do that! 😅
4. V For Vendetta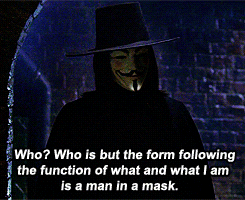 Via Giphy
This was one of those, 'wait, that's a book?!' films - or, in this case, graphic novel.
Wanna see where Anonymous get their fashion-tips, in a dystopia inspired by Thatcher's Britain? Here ya go!
5. The Ritual
Another of the, 'that's a book?' moments - and, unlike most of the books on this list, the book here is very clearly better than the film. (Imho!)
The film was like - 'that was an OK horror film.'
The book, though? The book was 'HOLY F**K THIS BOOK!' Lol!
Have you read/seen any of these?
Movie first? Or book? Or does it not matter?
You can follow me on Twitter @CeeDoraReads, on Pinterest, and on
Dora Reads @ BlogLovin.
For more ways to support me, check out the Support Me page
Related Reading:
Sharing & commenting is totally appreciated beautiful nerdlets! 😊
Last updated: 24th May 2020