(Warning: this post discusses racism, Transphobia, and racist, Transphobic, and Transmysogynoiristic murder.)
Stay safe.
Stay home when you can.
Wear a face mask if/when appropriate.
Once again, the rights and lives of Black people, Trans people, and Black Trans people, are under threat.
I'm privileged in that I'm a White Cis woman.
And after all the media attention has died down, I will still be a White Cis woman, and Black people will still be Black, and Trans+ people will still be Trans+.
There's a natural tendency that most humans have of wanting to fix the thing - quickly and simply, if possible.
And this isn't something we can snap our fingers and fix.
Racism and Transphobia are deeply ingrained prejudices, so deep that they become integrated with the systems of society itself.
But not only are there no quick-fixes, but attempting -
as White people in the case of racism, or as Cis people in the case of Transphobia
- to say 'Why don't you...?' as if Black and Trans+ people somehow won't have thought of the most obvious options, is naive at best, ignorant at middling, and malicious at worst.
It's like someone's trying to open a locked door, and after watching them struggle for a few hours, we stroll up and say, 'Why don't you try the key?' as if we've suggested something earth-shattering.
So, despite my natural inclination to want to fix the thing - quickly and simply, if possible - I know I can't.
And that's frustrating.
And that frustration is actually good - it means we're motivated to change things.
But we have to make sure we don't give in to that frustration in a way that puts the burden of change onto the oppressed.
We have to make sure we don't lash out - especially not at the very people who need us to stick up for them.
Supporting Black people
In case it still needs to be said: George Floyd was an unarmed Black man, murdered by the police in Minnesota.
Black Lives Matter.
George Floyd's life mattered.
Here's some ways you can begin to build on that knowledge, and support Black people:
Black BookTuber Tiana T eloquently discussed the current situation (with a focus on BookTube,) in this vid (run-time: 5.54):
(Warning: mild flashing images)
Supporting Transgender people
(including Trans+ and NB+ people)
If you're not aware... J K Rowling decided to go on the offensive and pour Transphobia over pretty much everything.
Run-time: 25.30
Run-time: 54.43
As part of her tirade against Trans people, JKR essentially used other marginalised and oppressed people as a shield and a weapon.
This included Cis women, Gay people, people with mental health problems, Autistic people, and people who have survived domestic abuse and sexual violence.
Domestic abuse and sexual violence is never acceptable, and it's terrible that J K Rowling went through that.
No-one deserves to be abused.
No-one deserves to have their abuser interviewed about said abuse on the front of a national newspaper. (WTF is wrong with people?!)
But standing behind other marginalised groups as you throw metaphorical stones at Transgender people isn't ok.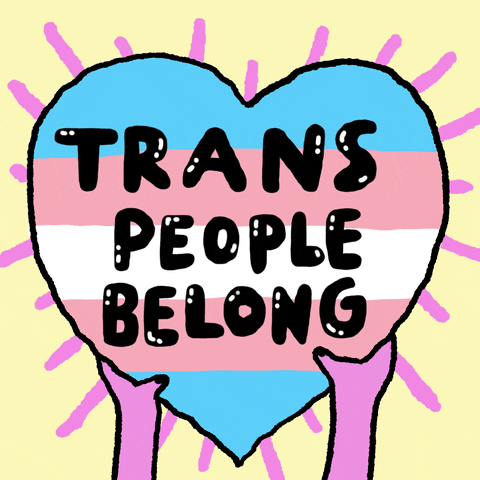 Via Giphy
I stand with Trans people.
Trans women are women, Trans men are men, and Trans+/NB+ people are people who exist beyond the M/F gender binary, and can use whichever pronouns and labels they feel most comfortable with.
Autistic Trans people are still Trans.
Trans people with mental health problems are still Trans.
Trans people who have survived abuse and violence are still Trans.
Trans people are Trans regardless of sexual orientation.
Here are a few more ways to support and learn about Transgender and Non-Binary people:
A couple of Trans+/NB+ YouTubers you can support:
*Black Trans+/NB+ YouTubers
...These are just a few, obviously - there's a lot more on YouTube.
Supporting Black Transgender people
(Again, this includes Trans+ and NB+ people)
Black Transgender people - especially Black Transgender women - are one of the most vulnerable groups in society.
This. Week.
Their lives mattered.
There are many other funds etc. around the Interwebs - just always make sure the website is secure, dearest nerdlets!
I know, dearest nerdlets, that sometimes it can feel like you're a single drop in a wide ocean - but if the ocean had no drops, it wouldn't be an ocean.
...What I mean is: What you do matters.
Take care.