(Warning: This post discusses 2020.
Which means it discusses:
- Coronavirus/Covid 19, and the death statistics
- racism
- racist murder (inc. murder of Black people by the police)
- Transphobia
- Transphobic murder
- Homophobia/Queerphobia
- Donald Trump
...I think that's everything. 2020, everyone.)
Well... it's been a week, right?
Unfortunately, if there's one theme to this week, both here in the UK and over in the USA, it's this: The more power and privilege someone has, the more they will abuse that power and privilege.
It's the same the world over - whether you're a racist cop literally murdering a man, or a top government aide who doesn't have to follow the rules you yourself helped to set up.
I don't like to sound bitter dearest nerdlets - I think there's enough bitterness in the world without me adding to it, and I'm naturally quite an optimistic person (despite the Depression.)
Via Giphy

UPDATE, 31 May:
Update 2nd June:
Update 8th June:
UPDATE 14th June:
I'm sure there are countless other instances of injustice and prejudice within the last few months - even more within the last few years - these are just the ones that sprang to mind.
And the president of those same United States?
And somehow people still support this waste of humanity.
Am I naive? Am I somehow misguided in my belief that human life has value? That people matter?
I don't think so.
But when the Prime Minister refuses to sack Dominic Cummings, I have to wonder.
Because over 37k people have died of Coronavirus in the UK, too.
Who is Dominic Cummings?
Many people consider him 'the power behind the throne' and credit him for the whole Brexit sh** show.
Evidently our Prime Minister doesn't see anything wrong with it either.
Mr Cummings seems to think that the rules don't apply to him.
Or do the lives of the disabled and elderly, of poor people and BAME people, mean nothing in comparison to your inconvenience?
Because my elderly and disabled grandmother is worth 100 and more of Dominic Cummings, and it's people like her that his actions are putting at risk.
He stayed local to his home.
And... I'm not sure which of these factors is relevant (probably all of them)...
...but it comes to something when attention is being diverted from the White, English, Westminster government aide who drove 260 miles with his family -
- to the Black Welsh Government Health Minister who... ate some chips on the way back home with his family within what he described as 'scooting distance' from his house for a five year old on a scooter.
The two things don't really compare, tbh.
I could go on and on.
I could talk about the rise in Transphobia (especially online) here in the UK, or the concerning and vicious attitude of some people towards 'reclaiming' the rainbow* from the LGBTQ+ community...
...but I think we've established that, sometimes, people suck.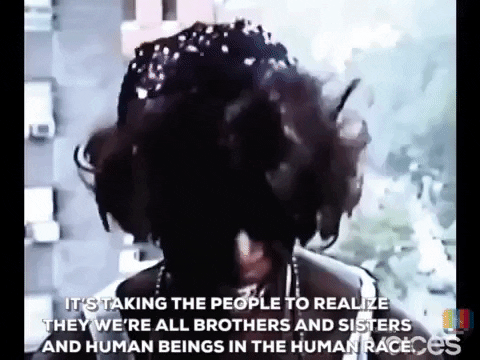 Via Giphy

What we need to do now is to remember that a lot of people don't suck - a lot of people are amazing.
I promise, that there is good in this world - so much good!
I promise that there is hope and acceptance and beauty and kindness and love and all those good things!
It just takes people with good enough hearts, taking small steps, to make the world a better place. I promise.
How do we change the world?
I mean, the world's so big, and these unfair, abusive, oppressive, and unequal, systems are so established!
What can one person do?
Ah, well that's simply complex and complexly simple, so easy and so difficult at the same time:
...All things which can be surprisingly difficult in practice.
Wherever you are and whatever you're doing, dearest nerdlets, stay safe and stay home as much as you can - my love's with all of you
Related Reading:
Sharing and commenting is awesome dearest nerdlets!