***All Amazon.com links in this post are commission links. This means I earn commission from purchases made in the US***
Please do not use my links to make UK purchases.
It's Thursday, let's get some good goddamn superhero-y comics-y goodness!
Other Stuff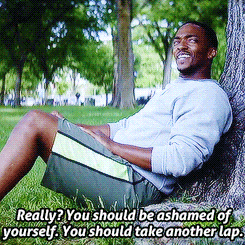 Via Giphy

I don't think that'll be much of a surprise to most people. But it's not good enough.
Productions are usually more diverse in front of the camera than behind it, because they often value the appearance of diversity over the actuality of diversity.
...and Marvel have only relatively recently started to become more diverse in front of the camera.
I love Marvel, but they need to do better.
Are you surprised by the state of diversity in the Marvel crew? Or just disappointed?
What do you think of Anthony Mackie speaking out?
Talk to me! 😊💬
Previous Comics Wrap-Up Posts:
Sharing and commenting gives bloggers life! 😀