'"Oh god, please tell me you're not Hydra,

"

said Clint, because he was entirely done with this whole thing now.'
Soulmate AUs are a popular type of AU in fanfiction - I tend to avoid them because they're often exclusionary of Asexual/Aromantic people.
This week's fic isn't - which is why I'm recc'ing it! 😉
(Fangirling notes:
AU = Alternate Universe.
Soulmate AU = an AU where soulmates are not only a scientific/social truth, but are often enshrined in law, visible as soulmates to others, etc. There's a lot of variation that fic authors can play with!)
Each fic has its own rules when it comes to Soulmate AUs - so long as you accept that, and go along with the ride, you'll be fine.
But if you must have some rules before-hand, then for this fic, the basic set-up is that soulmates a) hear a chime when they first meet, b) sync-up heartbeats and sleep rhythms, and c) can heal each other's physical injuries
(The Aro/Ace inclusion here is vague but present - not all soulmates are romantic and/or sexual. It's explained late on in the fic that a lot of soulmates are platonic, and never have a physical/romantic relationship.)
So this is an MCU fic which has the 'rare pair' of Bucky Barnes (The Winter Soldier) and Clint Barton (Hawkeye.)
And Clint is deaf! *punches air*
(Clint is canonically deaf in the comics, but this gets erased in the films, so I love it when a fic uses it. #DisabilityRepresentationForTheWin!)
(Fangirling notes:
MCU = Marvel movies, i.e. The Avengers etc.
Rare pair/rare pairing = a romantic and/or sexual relationship which there are a comparatively small number of fics for.
Canonically/canon = the 'official' stuff that happens in the comics/TV series/books/whatever.)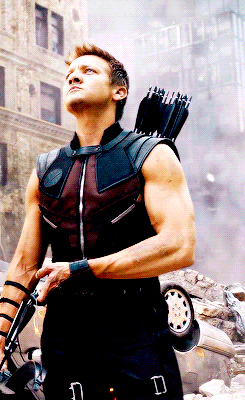 Via Giphy

I really enjoyed this fic - which is about Clint and Bucky going undercover in the army and having an enemies-to-lovers storyline along the way.
It's not perfect though - it makes use of racial slurs regarding Latinx people, and Homophobic slurs, etc.
Fanfiction is a fairly anonymous medium, so I have no idea if the fic author has the right to reclaim these words as a member of the affected groups or not.
But regardless, I know it'll upset and hurt some people, so this is your warning.
Speaking of Content Warnings, here's a handy-dandy list:
- racism
- Homophobia
- workplace bullying
- facist terrorist group working within the US military
- general violence
- blood and injuries
References to:
- torture
- memory loss
- mind control
- sexy-times
- child abuse (physical, possible emotional)
...I think that's everything, but as always, be careful dearest nerdlets!
This week's fic, then, is:
Be All You Can Be by flawedamythyst
Are you a fan of Soulmate AUs?
Do you have a fave rare pairing?
Talk to me! 😎💬
You can follow me on Twitter @CeeDoraReads, on Pinterest, and on
Dora Reads @ BlogLovin.
For more ways to support me, check out the Support Me page
Related Reading:
Sharing and commenting always makes me smile dearest nerdlets! 😁