It's Thursday. It's 2020. Let's get some comics-y superhero-y goodness!
Everything is once again in the 'other stuff' category for which we will #BlameLoki (with good reason, this time!)
Everything is also really Queer this week - which, of course, I'm here for. And that's also partly Loki's fault 😉
***All Amazon.com links in this post are commission links. This means I earn commission from purchases made in the US***
Please do not use my links to make UK purchases.
Other Stuff
Legendary comics creator Grant Morrison has come out as Non-Binary, and congrats to them!
Danika @ The Lesbrary gives us a short guide to Lesbian and Yuri (F/F) Manga
Rumours suggest Loki will be Bisexual in his Disney+ series!!!!!
Like, I'm kind of nervous that this'll just be talk, and won't actually happen, and I really, really, want it to actually happen.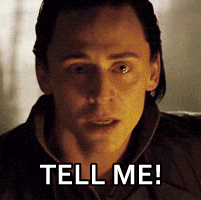 Via Giphy

Because Loki is canonically (i.e. officially) all kinds of Queer in the comics - and I need that to be acknowledged dammit!
Fingers crossed, this'll actually happen.
The wonderful Kristen/Kit has reviewed Chapter 1 of M/M webcomic Starfighter over on their blog, Metaphors and Moonlight. (Warning: 18+ only comic (sexy-times,) discussions of consent issues)
And to end traditionally with some shameless self-promo, you can catch up with all my comics and superhero posts - and all of my posts in general - with my Month in Review(s) post for October.
Are you a Grant Morrison fan?
Thoughts on Loki...?
Talk to me! 😀💬
You can follow me on Twitter @CeeDoraReads, on Pinterest, and on
Dora Reads @ BlogLovin.
For more ways to support me, check out the Support Me page
Previous Comics Wrap-Up Posts:
Sharing and commenting is beautiful! 💖
'To give you and me the ability to scream our voice' is from LGBTQIA (A New Generation) by Matt Fishel