It's Thursday, the world is a weird and wonderful place, let's get some comics-y, superhero-y goodness!
TV Trailers
Due to American footballery, we have a new The Falcon & The Winter Soldier trailer!
I'm so looking forward to this - I really need them to have toddler-style slappy-fights at least twice in this series. (Lol.)
(Also if we're gonna include Sharon Carter, can we use her as more than a forced heterosexual romance this time? Because the way she was previously used was unfair on both women and Queer people. #JustSaying.)
(Warning: flashing images, violence)
The CW's Superman & Lois also gave us a new trailer.
And either we've time-jumped or other comics-y shenanigans, because last time we saw their kids, they were literally infants. Now they're teenagers.
Yay, comics. (Lol)
(Warning: flashing images)
Films
I finally saw Birds of Prey (And the Fantabulous Emancipation of One Harley Quinn)*!
I didn't get around to seeing it when it came out in early 2020, and then 2020 really kicked in, and my weekly cinema trips with The Bestie came to an abrupt halt... as did everyone's cinema trips.
So anyway, I got the chance to see it on TV, and I loved it! Totally awesome and randomly random film - completely my kind of thing.
A lot of dark content etc. though dearest nerdlets so please be careful if you watch it! 💖
* = commission link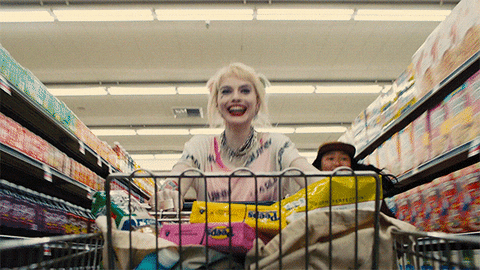 Via Giphy
Other Stuff
I came across this beautiful article/post/whatever about Black Panther by Trisha Chaparala Iyonisi @ Scary Mommy, written in the wake of Chadwick Boseman's death.
CW: it discusses many issues relating to racism, including the detention of immigrant children in the US
And to end on some shameless self-promo, last week's Friday Fics Fix combines The Falcon with a different superhero - Klaus Hargreeves, aka The Seance, from The Umbrella Academy
Are you a Harley Quinn fan?
Are you concerned about the introduction of Sharon Carter to The Falcon and The Winter Soldier?
Talk to me! 😊💬
You can follow me on Twitter @CeeDoraReads, on Pinterest, and on
Dora Reads @ BlogLovin.
For more ways to support me, check out the Support Me page
Previous Comics Wrap-Up Posts:
Sharing and commenting is as fantabulous as Harley Quinn! 😘
'I can't bring back how it used to be' is from Ghosts* by Mike Shinoda
* = commission link