It's Thursday, it's April, let's get some comics-y superhero-y goodness!
TV Shows
The Falcon and The Winter Soldier episode 4 - Oh. My. God.
I can't say much because this, as we all know, is a spoiler-free zone.
But... this ones a doozy.
Wow, like... wow. There's some brutal, shocking, stuff here - even for this series - so, be careful, k?
Here's a nice, happy gif of Sam and Bucky: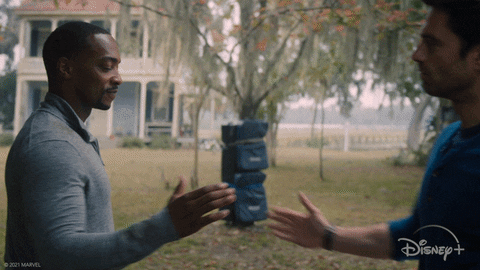 Via Giphy
Other Stuff
Marvel released the iconic Zemo Cut, because at heart they're 3 year old trolls 😉
S W Sondheimer @ Book Riot has detailed some of the most notable superheroes to ever be named Captain America (you thought there was only one? You sweet summer child!) - this contains SPOILERS for The Falcon and The Winter Soldier, and discussions of violence and systemic racism
Last week's Friday Fics Fix talked Umbrella Academy and sweet Hargreeves family-ness!
And to end on some more shameless self-promo: if you wanna catch up on March's comics posts (or any other posts,) check out my March wrap-up
Fave non-Steve-Rogers Captain America?
Or can there only ever be one?
OMG, did you see ep 4 of TFATWS????
Talk to me! 😀💬
You can follow me on Twitter @CeeDoraReads, on Pinterest, and on
Dora Reads @ BlogLovin.
For more ways to support me, check out the Support Me page
Previous Comics Wrap-Up Posts:
Sharing and commenting is super-beautiful! 😊
'Paint these walls in pitchfork red' is from It's Not A Fashion Statement, It's A Deathwish* by My Chemical Romance
* = commission link