It's Thursday, the world is still pretty weird, let's get some superhero-y, comics-y, goodness!
TV Trailers
We have a trailer for the Loki Disney Plus series!
I'm super excited for this - looks like we're getting a lot closer to Comics Loki (or at least... some of Comics Loki,) and I love Comics Loki! (I love MCU (movie) Loki too, ofc!)
Plus, I have no idea why we're going for a Stanley Kubrick's Shining aesthetic, but it somehow seems to work!
Warning: FLASHING IMAGES, violence, imprisonment, SPOILERS for MCU (Avengers)
Film Trailers
Another trailer for The Suicide Squad!
Because apparently Warner Bros wanna spoil us.
Still loving Harley/Margot Robbie in that dress, and I love David Dastmalchian, who plays Polka-Dot Man (yes, that's a comics character - comics be weird) in pretty much anything!
Warning: FLASHING IMAGES, violence (including gun violence, explosions,) blood and gore, ableism
Black Widow will be finally released in July (it was due out last year, but 2020 happened.)
Scarlett Johansson is still problematic, but this still looks awesomely awesome
Warning: flashing images, violence (inc. gun violence, explosions,) mild MCU (Avengers) SPOILERS
TV Shows
The Falcon and The Winter Soldier episode 3 (still spoiler-free zone, no worries) was more heavily plot-based than the other episodes so far.
I haven't been giving Content Warnings for these episodes, because I think it's pretty self-evident the themes that are going to be in it, all in all, and writing lists of CWs is exhausting -
(if you do want CWs, just lemme know in the comments or hit me up on Twitter, (my DMs are open,) I'll be happy to come up with a list for you if you're worried about particular topics,)
- but I will provide a specific CW for this one.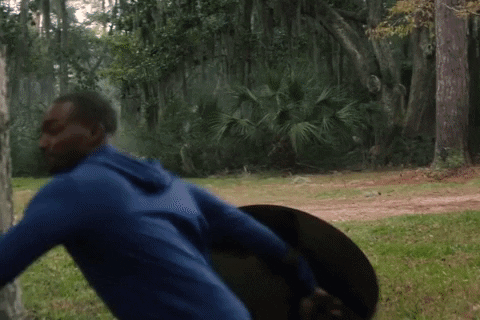 Via Giphy
I've read around on the fandom/nerd-based Interwebs that it caught a lot of people by surprise, and affected people's mental health, so:
This episode heavily implies a potential sexual assault. Someone is implicitly offered up for sex without consulting them, and there are possible implications of past abuse surrounding that.
Please be careful while watching, because I've seen plenty of people anecdotally saying that they weren't prepared for things to take that particular angle.
It's brief but impactful, and I wanted to make sure you were all aware.
Despite the heavier plot in this episode, there were still plenty of moments of character development, and much 'show don't tell.'
...And all in all it's just awesome!
I'm loving this series!
Other Stuff
And if you want more Sam and Bucky (Falcon & Winter Soldier) in your life, check out my fic rec last from last Friday
What do you think of the Loki trailer?
Are you looking forward to The Suicide Squad?
Have you been watching The Falcon and The Winter Soldier?
Talk to me! 😊💬
You can follow me on Twitter @CeeDoraReads, on Pinterest, and on
Dora Reads @ BlogLovin.
For more ways to support me, check out the Support Me page
Previous Comics Wrap-Up Posts:
Sharing and commenting is like warm sunshine! 😎
'Keep a light on those you love' is from Weight of the World* by The Editors
* = commission link