It's Thursday, somehow we've reached November, so let's get some comics-y superhero-y goodness!
A Marvel-ous Clip
Marvel have released an awesome clip for The Marvels - and honestly, the interaction between Nick Fury and Kamala Khan is something I didn't know I needed...
...but I so did! They work so weirdly well together as allies/friends, it's so sweet! 😍
Warning: flashing images, general violence
Argh!
OK, I normally don't go in for mid-season trailers but...
IKnoifdjnbgeoprghrionbewlkkl;!!!!
After the patented episode 4 poop-hit-fan (that's not a spoiler, it happens in literally every Marvel series - in episode 4 some poop will hit the fan in some capacity,) I was really in need of this mid-season trailer for series 2 of Loki.
(And it is totally bad-a**!)
Warning: possible SPOILERS, flashing images, general violence, mild body horror
An absolutely accurate* summary of Loki, episode 2.4:
*Any accuracy is purely coincidental
OK - SPOILERS for episode 4 of series 2 of Loki, OK? SPOILERS.
SPOILERS!!!!!!!!!!
OK, great.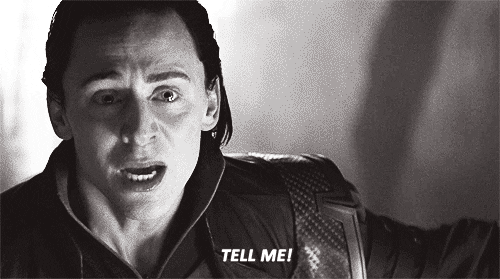 Via Giphy
1.
Victor Timely: OMG, O.B., I am such a fanboy! You really inspired me!
O.B.: OMG, Victor Freaking Timely?! You inspired me!
Loki: ...This whole thing is chaos, and I love it.
2.
*walking into the cell after Ravonna's war crimes*
B-15: What in the actual...? Is that...? I'm gonna be sick. I LEFT THIS PLACE FOR 5 DAMN MINUTES!
3.
O.B.: So, I could re-boot, but that would mean shutting down the TVA magic blocker...
Sylvie and Loki: YOU COULD HAVE DONE THAT THIS WHOLE FREAKING TIME?!
O.B.: ...Is this something you're interested in?
Mobius: It was nice meeting you, O.B., I'll talk at your funeral, give ya a nice send-off.
Shameless Self-Promo Time!
You can check out my summary of episode 3 of series 2 of Loki on Medium here, or on Dora Reads in last week's CWU here.
Plus, you can check out last week's Friday Fics Fix where Tony Stark was an Incubus (sexy-times demon) on a date with Bucky Barnes. (Because why tf not?)
Are you looking forward to The Marvels?
Have you been watching Loki?
Were you aware that ep. 4 of any Marvel series is where the poop hits the fan, or have I just blown your mind?
Talk to me! 😅💬
You can follow me on Twitter @CeeDoraReads, on Pinterest, and on
Dora Reads @ BlogLovin.
For more ways to support me, check out the Support Me page
Previous Comics Wrap-Up Posts:
Sharing and commenting is awesome-sauce! 😘