"I swear, all the doors in this damn house are going to be destroyed by the end of tonight," Diego muttered.
Yes, we are Umbrella Academy-ing again dearest nerdlets!
(Not least because it's a safe place to hide from Endgame spoilers! Lol.)
And just to be extra-nice to ya, it's a long fic!
Like, 'over 200 pages on my Kobo'-type long!
I don't tend to read all that many long fics, because:
a) attention span and-
b) not many people are capable of writing them to a standard I can stick with for more than 20-50 pages!
#HarshButTrue
I also don't tend to read too many fics with original (i.e. non-fandom-based) characters in them - but this one is an exception to that too!
And in all fairness to this fic - it manages to keep the balance right!
The original characters are fleshed-out enough to be believable, but not so in-your-face that they overshadow who we all came here to read about!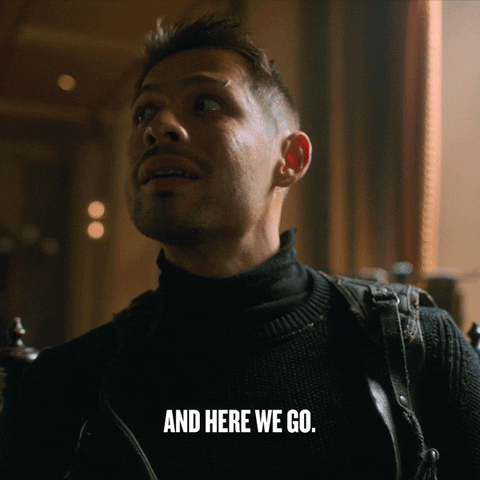 Diego gif this time! :)
Via Giphy
Before you ask - yes, this fic is centred on my Queen, Klaus Hargreeves.
It also has a sh**-tonne of plot and sibling interactions and all that fun stuff though! 😀
Also, there's some heavy stuff in this fic, so be aware of the following, dearest nerdlets:
- substance abuse and addiction (inc. GRAPHIC drug use)
- abduction
- torture (inc. sexual elements)
- mental health problems (inc. graphic PTSD flashbacks)
- abusive relationships (mental, physical, sexual)
- attempted suicide
- grief
- child abuse (mental, physical)
- modern slavery (non-sexual)
- general violence
- murder
- war/military service
- casual homophobia
- Coming Out
- family issues
...Once again, everything involving The Umbrella Academy involves 'family issues.' 😅
There's also a butt-tonne of SPOILERS for the series, so don't say I didn't warn ya!
This one had that page-turning thing that we, as readers, are eternally on the search for.
And to have that in fanfiction is just f**king awesome! 😎
This week's fic, then, is:
Friday Fics Fix is taking a break next week, and will be back on 17th May 2019
Have you read any awesome long-fics?
What was the last 'page-turner' (of any type) you read?
You can follow me on Twitter @CeeDoraReads, and on
Dora Reads @ BlogLovin.
For more ways to support me, check out the Support Me page
Sharing and commenting makes this li'l book nerd so happy, dearest nerdlets! 😊
Last updated: 7th May 2019