While my aim is to write every day
(y'know, like all the advice seems to say you should if you wanna be successful as an author,)
some days I just can't.
That's not strictly true - I usually end up writing
something
in a day: blogging, tweeting, e-mails, work stuff, etc.
But I don't always manage to work on my work-in-progress (WIP) every day.
What is my WIP? I have no idea.
Well, I have
some
idea.
It's a novel. Probably.
I started it over a decade ago (no, really...) and it's had a lot of breaks where I've left it and come back to it months or years later.
It's now set in Wales, because setting it in London was really not a good plan.
It's got lots of gothicky ghosty fate stuff going on with some sci-fi and fantasy and horror doo-dahs.
I have decided it's in a genre I've named Kevin.
My WIP is Kevin. *nods sagely*
(In case you're interested, it's currently called These Ghosts of Ours. I have no idea whether that will change or not.)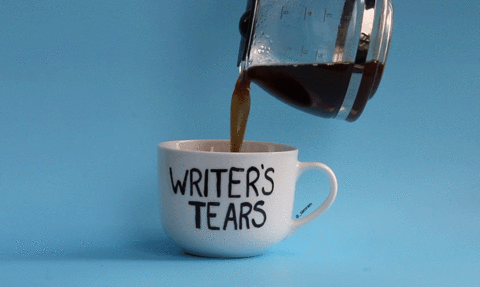 Via Giphy
Anyhow, my aim is usually to write like, 5 pages in my notebook per day
(yes, I measure writing in notebooks #DealWithIt)
Sometimes I only manage a paragraph.
Usually I don't manage as many as 5 notebook pages.
I also end up taking a lot of cheat days where I don't work on my WIP at all.
I can hear the 'constant hustle'/'art is pain' crowd gasping already.
And in an ideal world, I'd write waaaay more than that a day - of course I would!
But we don't live in an ideal world.
We live in a world where I have to work, do family stuff, and also have some down-time
.
We live in a world where
my Depression/Anxiety tries to convince me to work my a** off
in order to be 'good enough' - which inevitably leads to me exhausting myself and making my mental health a
lot
worse.
The more energy I let myself burn by over-working, the harder it is to work.
I can't do it. I just end up making myself ill.
I have to put myself first - as a lot of people in different circumstances and/or with varying disabilities have to.
I work with less effort and better results when I
don't
force myself - that works for writing and for everything else in equal measure.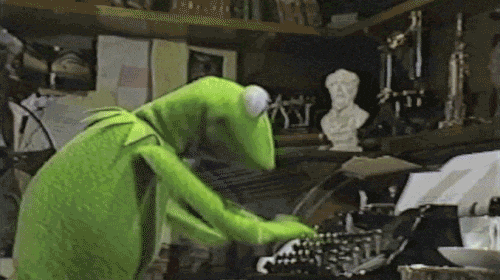 Via Giphy
With writing though, not forcing myself to write also makes me actually more likely to write
- I know, I know, I'm a walking contradiction. 😅
The thing is:
I write (and read) because it's who I am, what I was meant to do - and I mean that with my whole heart.
It's not meant to be something I punish myself with, feel guilt over, or make myself ill with. What would be the point of it if my passion in life was something that hurt me?
I have to write - but not by forcing myself.
I know when I wanna write.
I can't stay away from it - my hand literally starts making little pen-graspy-motions.
So I know that if I don't actually feel like writing, then it's not the time to write.
Because when I have enough time, energy, and attention-span
to
write - then I write.
Even if it's just a little
. No question.
The old 'burning the candle at both ends' routine* is just gonna mean you have nothing left in reserves.
You can't write - or work, or dance, or whatever the f**k you wanna do - if you've got nothing left in the tank (yeah, I'm mixing metaphors, and I don't care!)
*Really hoping you have this phrase outside the UK, cos I have no idea how to explain it!
And if - like me - there are days when you can only get a paragraph done?
Well maybe that's just how it's meant to be.
Enjoy it.
Write your paragraph. If, when you're done, you wanna write another one, go ahead - if you don't, then that's fine too.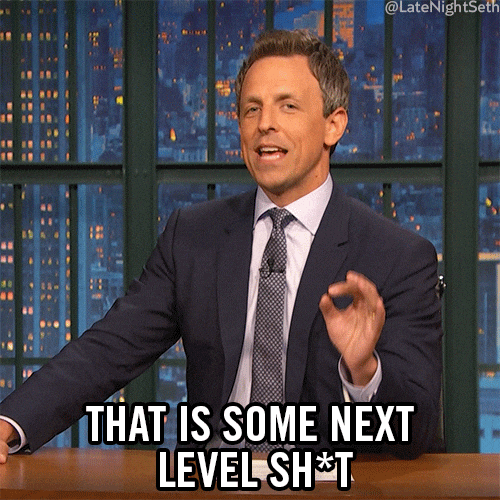 Via Giphy
Take your cheat days and don't make yourself guilty over them.
Cheat days are awesome! You'll do it tomorrow, no biggie.
(The hooman brain doesn't do well with
productivity guilt
. #TrueStory)
I've made a decision to put myself first.
And it's not easy.
But it'll be better, in the long run - I'll get more done, the quality of my writing will be better, and I'll (hopefully) be happy while doing it!
Do you think there's too much pressure to over-work in order to reach your goals?
You can follow me on Twitter @CeeDoraReads, on Pinterest, and on
Dora Reads @ BlogLovin.
For more ways to support me, check out the Support Me page
Other Writer Diaries Posts:
Please share and comment! 😀
Last updated: 26th Dec 2019