(Warning: this post references Coronavirus/Covid 19, and Lockdown)
"Bored!" I kicked the carpet with my heel. "Bored!" I kicked it with my other heel. "Bored!" I switched back to the first heel.
...That's the last time I can remember being plain bored.
I think I was eight. I definitely wasn't older than ten.
Don't get me wrong - I've been bored of things plenty of times. Teachers, mostly.
(School is good and something you should go to and all that - but my school sucked. On many levels.
We used to hide maths homework inside our PSE (Personal Social Education) booklets - because apparently LSD was a big threat to the teens of the mid-to-late 00s. (Spoiler: it wasn't.)
Also we had to colour in the pictures of drugs for some reason? Like this is gonna put us off in any way? (Don't do drugs, dearest nerdlets, k? K.)
Also the teacher I had for PSE told us way too much about the various times she 'ran away with [man] to [location] and it all went wrong and I ended up stranded in [location - not necessarily the 1st location]' We honestly didn't want to know.
We were hiding maths homework, dearest nerdlets. Maths. Homework.)
So, things I was bored of aside, it's been well over 15 years since I was bored.
And we still had dial-up internet at the time, and only one computer.
And we had to have permission off my parents to go on it, because the Internet cost more money the longer you used it, and also no-one could use the phone while we were on it.
Cos now?
Now that we literally have the history of mankind at our finger-tips, and all of art, science, culture, etc. available whenever you want?
HOW can someone be bored?
I mean, it feels like boredom's a luxury sometimes, anyway.
Sure, I have times when I'm not doing anything - but I usually call that rest.
Even then, I don't do as much resting as I probably ought to.
There's always something to do - fast-paced modern-living and everything.
So when, anecdotally, I hear of people being bored, I'm like: ...how?
Cos you don't have to be doing something 'productive' in order for you to do something - if you aren't able to work, you can spend time on your hobbies, catch up on adulting, or just enjoy reading/watching TV/whatever.
And if I hear one more TV interview with 'normal' people, who are like, 'I've seen everything on TV!' I'm gonna scream.
Because that's not possible. We literally live in a world where we as a species have created more content than we'll ever be able to consume in a lifetime.
YouTube is free, knock yourselves out. (Figuratively, ofc.)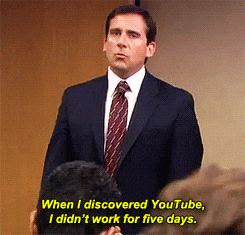 Via Giphy

Like, I get that the whole Coronavirus deal-y is stressful (believe me, I get that!), and staying at home isn't something we're used to (so important though! STAY HOME!) but I don't think people are actually bored.
I think they just don't have anything they want to do.
And that's OK! It's OK to feel unmotivated, or lacking in energy, or fed up, or lonely, or bored of the restrictions to our lives.
But mis-labelling that feeling as a general boredom, when there's a whole world of stuff available to you (and I know it is, because if you didn't have an internet connection, you literally couldn't read this post,) is probably not good for anyone.
I'm not trying to criticise here - you feel what you feel. End of.
If you feel legitimately bored, then you feel bored. And I'm not trying to get at you, or invalidate anything you feel.
You feel what you feel, regardless of my opinion - I'm just some chick with a blog.
Maybe ask yourself why you feel bored though... because it's not because you don't have anything to do.
(Again, I get being bored of something, I'm talking general boredom here!)
...And at the very least, asking yourself how and why you feel bored will give you something to do for a minute or two! ;)
(And if all else fails, for the love of God, take up a hobby!)
Am I wrong? Am I right?
Are you bored?
Talk to me!
Previous Nerd Church Posts:
Please share and comment! <3